Technology Advanced Girl Scouts
The Purdue Polytechnic Institute and the Girl Scouts of Central Indiana partnered to bring technology and fun to middle schoolers!
Come explore the exciting world of technology with the Purdue Polytechnic staff. Learn about technology through hands-on activities and find out you can use that knowledge later on. You'll also get to experience college life on a Big 10 campus.
Camp Date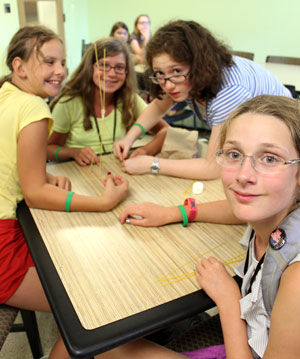 TAGS is scheduled July 18 - 21, 2016.
Cost and Accommodations
$300 per person, including room and board and all activities. There is an additional $30 fee if you are not a girl scout.
Check-in time is Monday, July 20 between 8:30 and 9:30 a.m.
Registration
You must be a member of the Girl Scouts to register. If you are not yet a member, contact Jaime Hubbard for assistance.
Registration is limited to the first 30 students to register.
You can register for the camp here.
Questions?
About the program:
Contact Toni Munguia
Director of Recruitment, Retention, and Diversity
765-494-4935
amunguia@purdue.edu
About registration:
Contact Jaime Hubbard
(317) 924-6859
jhubbard@girlscoutsindiana.org