Windows of Opportunity for Women in Technology
You can make a difference at the Purdue Polytechnic Institute!
Available to 9th - 12th graders.
Come to campus and find out how technology is more than a machine or a gadget. It is a way of thinking about today's challenges and overcoming them with innovation, creativity and hard work.
Bring a family member (a parent or guardian) and discover the world of opportunity that awaits at the Purdue Polytechnic. You will be able to experience technology projects firsthand. You'll see technology applied in a variety of ways. You'll see how technology can impact lives, individually and on a grander scale.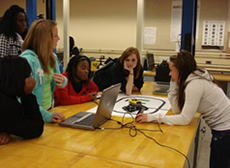 Camp Date
Be part of the WOW factor October 22, 2016
Cost and Accommodations
The WOWiT program is free. The day's activities include a continental breakfast and lunch at Purdue Memorial Union for you and one parent/guardian. Additional lunches for siblings and parent/guardian are available for $15 each.
Register
Return your enrollment form as soon as possible. Enrollment is limited to 60 students.
Please respond no later than October 7, 2016.
Mail to:
WOWiT Program
Knoy Hall, Room 150
401 N. Grant St.
West Lafayette, IN 47907-2021
Questions?
Contact Toni Munguia
Director of Recruitment, Retention, and Diversity
765-494-4935
amunguia@purdue.edu
This program is sponsored by Alcoa, Caterpillar, United Technologies, and Eaton Corporation.