Certified Ethical Hacker Training Course

Purdue's Certified Ethical Hacker (CEH) course is a comprehensive online bootcamp that teaches information security professionals how to find vulnerabilities in information systems and prepares those professionals for the Certified Ethical Hacker certification exam.
With the consent of organization owners, students learn to systematically inspect the organization's network and system infrastructures to locate vulnerabilities that malicious hackers could exploit. Upon assessing the system's security to determine if unauthorized access is possible, students learn how to close those security breaches.
The course leverages Purdue's highly ranked cybersecurity programs and faculty with its online course design expertise to bring students a tailored online experience. Those who complete the course receive a voucher, good for up to one year, with which to take the CEH certification exam from the International Council of Electronic Commerce Consultants (EC-Council), which is the international professional organization that oversees the Certified Ethical Hacker program.
The CEH course takes approximately 40 hours to complete and meets Monday - Friday from 8:00 a.m. – 5:00 p.m. Eastern Standard Time.
Certified Ethical Hacker Informational Webinar

Watch a prerecorded webinar to learn more about the program and the benefits of earning your credentials.
What's Included:

Certified Ethical Hacker live instructor-led training
Access to over 140 hands-on labs, quizzes and practice tests
The electronic textbook
A certification exam voucher good for up to one year once you complete the course
How It Works:

Course Length: 5-Day Bootcamp
Schedule: M-F 8:00 a.m. - 5:00 p.m. (EST)
Format: 100% online, instructor-led live sessions
Course Start: June 21, 2021
Course Outcomes:

Upon completion of this course, you will be able to:
Demonstrate understanding of attack vectors
Perform network scanning to identify live and vulnerable machines in a network
Perform OS banner grabbing, service and user enumeration
Perform system hacking, steganography and steganalysis attacks, and cover your tracks
Identify and use viruses, computer worms and malware to exploit systems
Perform packet sniffing
Conduct a variety of web server and web application attacks including directory traversal, parameter tampering, XSS and more
Perform SQL injection attacks and different types of cryptography attacks
Perform vulnerability analysis to identify security loopholes in the target organization's network, communications infrastructure and end systems
Purdue's CEH FAQ Download the Course Outline
Meet the Instructor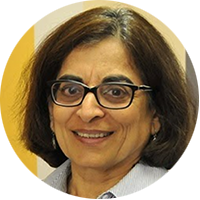 Meenaxi Dave
Information Security Educator
Meenaxi Dave has been an instructor since 2012 and has taught 1000+ students. Dave is an experienced information security educator with proven success developing, delivering and evaluating IT security training programs for college-level students. She is a recognized technology leader with experience in healthcare, banking and academic environments. Dave has served on multiple nonprofit boards like ISSA, InfraGuard and as a Chair for SkillsUSA computer contest. Dave has spoken at Cybersecurity conferences like Secureworld USA, ISSA, and Women in Technology. She is a certified EcCouncil Instructor for CEH Master, CND & CCISO, and certified ISC2 Instructor for CISSP. Her professional certifications include CCISO, CISSP, CEH Master, CND, CompTIA Security+, Network+ and Linux+. Dave earned her master's in computer science from the University of Memphis.
Request More Information


Benefits of the Program

EC-Council Ethical Hacker material is supplemented by Purdue expertise in cybersecurity and course design
Students gain critical expertise needed for the EC-Council Certified Ethical exam; course graduates have one year to take the exam
100% online course
Students of this course receive FREE access to Hacker Halted 2020 and other conference events.
Who Needs This Course

Network analysts
Security analysts
Software engineers
Website administrators
Security auditors
Security consultants
Security officers
Security researchers
Security technicians
Information technology professionals in business, government, the military and other organizations with two or more years of experience
Students who have graduated with a four-year degree in cybersecurity
Why a CEH Credential?

PayScale.com reports that Ethical Hackers earned a median annual income of $85,000 in May 2020
U.S. Bureau of Labor Statistics projects job growth of 32 percent for security analysts through 2028
Allows security professionals to demonstrate mastery of the constellation of skills needed to detect and respond to threats
Helps security professionals stay up to date with advances in cybersecurity generally and penetration testing specifically
Meets Department of Defense Directive 8140 certification standards, which is required for certain job classifications
Registration

Start Date: June 21
Schedule: M-F 8:00 a.m. – 5:00 p.m.
Length: 5-Day Bootcamp
Cost: $2,995
Learn more about additional cybersecurity education opportunities at Purdue Cyber Apprenticeship Program (PCAP).