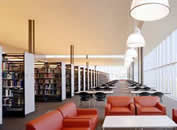 The University Library of Columbus and the Center for Teaching & Learning are housed together in the University Library of Columbus, Suite 1600.
Contact Information
Information Desk 812-375-7510
Reference Desk 812-314-8708
www.iupuc.edu/library/
Hours of Operation
Monday - 8:00 AM - 9:00 PM
Tuesday - 8:00 AM - 9:00 PM
Wednesday - 8:00 AM - 9:00 PM
Thursday - 8:00 AM - 9:00 PM
Friday - 8:00 AM - 5:00 PM
Saturday - 8:00 AM - 3:00 PM
Sunday - Closed
Hours are subject to change. Please call the Information Desk, at 812.314.8703 for current hours.
Who May Use the Library?
The University Library of Columbus (ULC) serves the students, faculty, and staff of IUPUC, Ivy Tech Community College and the Purdue Polytechnic Institute. In accordance with the ULC mission, the library also serves as a resource for the residents of the Columbus area, and the state of Indiana. Privileges will vary according to the status of the user. All patrons must present a valid library borrower's card in order to check out materials from the library. No other forms of ID will be accepted for checking out materials.
The Indiana University Libraries Borrower's Card is valid in all Indiana University system libraries, however the associated privileges will vary from library to library.
How to obtain a Borrower's Card
Residents of the State of Indiana over the age of 16 can get an Indiana University Libraries Borrower's Card by presenting their Indiana Driver's License or other acceptable proof of identity and residency at the information desk.
Computers
Computers in the Library Information Commons are available for use to anyone with a valid library card and a Guest Computer ID (for more information on Computer Guest IDs, please contact the Library). Priority is given to people working on academic assignments.
You will be prompted for a username and password to access many electronic resources at the Library. Your IU Network ID consists of your username and password-normally the same username and password you use to log into your OneStart account. When you login with your IU Network ID and password the domain for the computer must be set as ADS. When you login with your Purdue University username and password the domain must be set as SWT.