Aeronautical Engineering Technology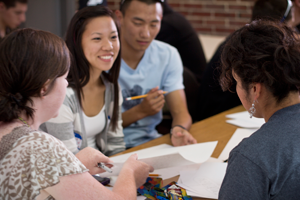 Airplanes are complex mechanical marvels, utilizing several different disciplines of science, engineering and mathematics. A degree in aeronautical engineering technology will provide you with the skills and knowledge to create and maintain these machines as well as improve the quality of life for those who depend on and use them. Over the course of the program you will learn how to design, manufacture, maintain, operate and support all varieties of aerospace vehicles. 
Special Features:
Learn in small, close-knit classes that feature individualized attention
Be more marketable to employers by preparing for and taking the FAA Airframe and Powerplant Mechanic certificate exam
Work in industry-standard labs to gain the best hands-on experience
Utilize the program's stellar reputation and coursework to provide greater chances at employment after graduation
Get involved with nine different student organizations specifically for aviation students
My aviation technology degree gave me the technical language skills needed to have credibility from the shop floor to the engineering office. The right mix of technical and hands on experience has been vital to my success.
Christopher Swan
Aeronautical Engineering Technology '81
Placement Data
| Number of Graduates | Percent of Grads Reported | Placement Rate | Average Salary |
| --- | --- | --- | --- |
| 28 | 89% | 88% | $53,231 |
Alternative aviation fuels and their use
Advanced aircraft automation
Air traffic control technologies, procedures, air traffic management and controller
Communications of aircraft malfunctions between flight, maintenance, and technical support personnel
Radio frequency identification
In addition to the fees charged to all Purdue students (technology fee, repair and rehabilitation fee, student fitness and wellness fee), students in the Purdue Polytechnic Institute pay a differential general service fee of $286.00 each semester.
Full information about tuition and fees is available on the Purdue Bursar's Office Web site.
Aviation is not a stationary, localized discipline; it is far-reaching and global. Part of the educational experience for aviation students includes a globalization requirement, which can be met one of four ways:
Complete  any  university-sponsored  study  abroad  program  lasting  at  least seven  days
Complete  an  internship  or  approved  international  research  project  that  involves  at  least  seven  days  of international  travel
Provide  documentation  of  having  lived/traveled  outside  the  U.S.  for  at  least  15  days  after your  12th birthday.
Complete  or  place  out of  the  Level  IV  (12  credit  hours)  course  in  any  one foreign  language
These globalization experiences are designed to provide students with an international experience and perspective as they prepare for careers in a global industry.
The globalization requirement may also be met by proving foreign language competence or by submitting proof of at least 15 days of international travel or residence since his or her 12th birthday.
The list of study abroad programs, internship and service learning options is updated annually.
In the past, AET students have taken advantage of internships in Sydney and London, experiences in Germany, and aviation tours of Europe.