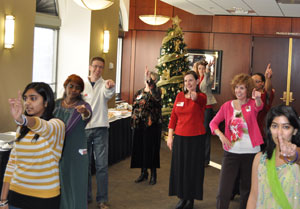 Purdue University Diversity Initiatives
The University is addressing the issue of diversity campus-wide through the Division of Diversity and Inclusion. The Division of Diversity and Inclusion provides focus, energy, support and leadership as Purdue University builds a more diverse, inclusive community. The Diversity and Inclusion web site offers more information on the events, programs and resources available on campus for faculty, staff and students.
Purdue Polytechnic Institute Diversity Committee
The mission of the Technology Diversity Committee (TDC) is to cultivate and sustain a culture of diversity and openness in the college and across the campus. The TDC promotes opportunities for partnerships, leadership, awareness and communication for all students, staff and faculty. Diversity Committee monthly meetings are open to all college faculty, staff and students.
Department Diversity Coordinators
Representatives from each department have been charged with building awareness for diversity and for identifying challenges and opportunities at the department level. The diversity coordinators serve as the liaison between the department administration and the diversity committee.
Hiring and Employment
The college is committed to hiring a workforce that is diverse and inclusive.
Diversity Research
Many funded research projects by college faculty have specifically addressed the challenges and opportunities related to diversity in the technological environment.
Mosaic Project
Learn more about our faculty and staff and their personal stories related to diversity. This visual mosaic is a snapshot of what makes the people in our college unique.