Purdue University's College of Technology has received more than $2 million from the Luis Hochschild Plaut and Rodolfo Beeck Navarro Trust to expand global education partnerships in South America.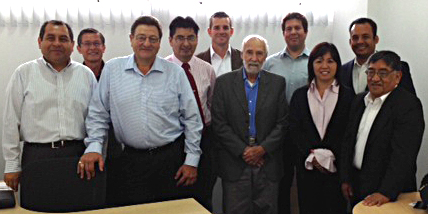 One of the first uses of the gift is a collaborative partnership with the University of Engineering & Technology (UTEC) in Lima, Peru. The money will support curriculum development of a dual-degree program, faculty support for a Purdue College of Technology liaison or resident director on the Lima campus, expenses for visiting faculty and additional educational activities.
"With this gift from the Hochschild family, Purdue and the College of Technology will be able expand our global education efforts in South America, a key area for Purdue as we broaden the reach of our teaching and research," Purdue President Mitch Daniels said. UTEC, a private university, was established by the Hochschild Group, which also created the Tecnologia Superior University (TECSUP).
"We are honored to work with UTEC, an institution with a vision of the great potential for education," said Robert F. Cox, College of Technology associate dean of globalization. "It is a good partnership with our college. We both teach technology and innovation, integrating engineering expertise with management and leadership skills."
Read the full announcement from Purdue News Service.
Photo: Don Buskirk, third from the left, is surrounded by his new colleagues on his first day as the College of Technology liaison to UTEC:
Alberto Bejarano, academic general director
Elmer Ramirez, head of electrical engineering
Alexander Peralta, head of mechanical engineering
Javier Landazuri, director of finance and administration
Hernan Montes, director of research
Victor Murray, head of electronic engineering
Cecilia Matsuno, business administration department
Pablo Moreno, quality and innovation coordinator
Venancio Astucuri, head of chemical engineering