Add to the MLK Dream Wall
Thursday, January 30, 2014 - 10:00am
to
Friday, January 31, 2014 - 4:00pm
Thursday, January 30, 2014 - 10:00am to Friday, January 31, 2014 - 4:00pm
Add to Calendar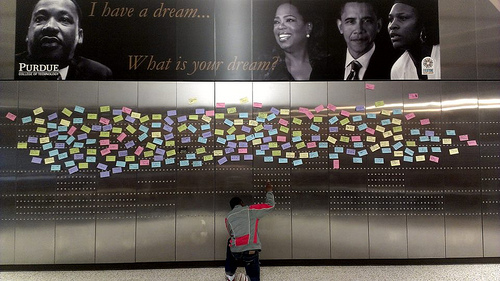 The Dream Wall will return to the college Jan. 30-31.
Members of the Minority Technology Association (MTA) will encourage all who pass through the Knoy Hall lobby on those days to share their dreams for inclusion in an interactive collection of Purdue voices.
As Purdue's Martin Luther King events wrap up this week and Black History Month begins Feb. 1, the College of Technology has created space in its lobby for students, faculty and staff to follow King's lead in proclaiming "I have a dream." Everyone is invited to walk through to read postings and to share their own. Members of MTA will assist with the process. Students will be on hand between 9:00 a.m. and 4:00 p.m.
In addition, the wall will highlight facts about King and the civil rights struggle. It will also feature examples of dreams fulfilled since King's "I Have a Dream" speech was delivered 50 years ago.