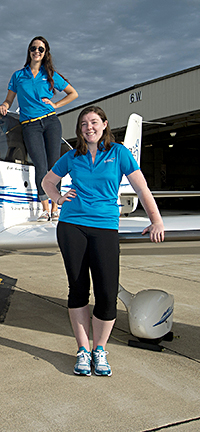 Two female Purdue University students took off June 9 from Purdue University Airport in a small plane for a four-day race that crosses the entire country, beginning June 16 in Concord, California, and finishing in New Cumberland, Pennsylvania.
Pilot Rachel Borsa, a senior from Erie, Pennsylvania, is returning to the women's-only Air Race Classic after serving as Purdue's co-pilot in 2013. Joining her in the cockpit is copilot Haley Myers, a senior from North Branford, Connecticut. Borsa was the first Purdue competitor to copilot an advanced Cirrus SR22 after a decade of the team flying an older, less powerful, manually controlled Piper Warrior II.
More Air Race Classic information online:
(Photo: Rachel Borsa, left, and Haley Myers are set to compete in the 2014 Air Race Classic).