Technology and health care are linked at every level, from the front office to the exam room to the surgical centers. Karen Waninger is helping lead the charge to help more people understand how technology and machines fit into the larger role of caring for a patient.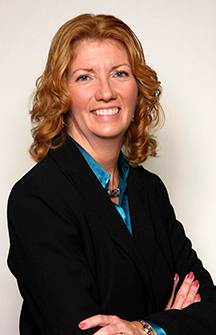 A 1985 graduate of Purdue's electrical engineering technology program, Waninger was named the Healthcare Technology Management (HTM) Leader of the Year for 2013 by the Association for the Advancement of Medical Instrumentation. She is Director of Clinical Engineering for Community Health Network in Indianapolis.
People in the HTM field, or clinical engineering, work with medical professionals to make sure they are competent and confident when using technology. They also are charged with ensuring the technology is working as it is supposed to when it is needed.
"If the device necessary to perform a specific procedure is available when needed, the outcome for the patient is better and the amount of time they have to spend in a hospital is shorter," Waninger said. In addition, because the cost for each machine can easily be $100,000-$1 million, the more time it is fully operational, the more money a healthcare organization can save.
What sets Waninger apart is her willingness to take her expertise outside of her company. She presents at industry conferences and advocates for the profession among professional organizations and with policy makers. She has even met with representatives from the Centers for Medicare & Medicaid Services who are responsible for setting the guidelines for surveys and certification of healthcare organizations.
"My own observations lead me to the belief that many in this profession are doing great things, yet they rarely will teach anyone else about it," she said. "I am not afraid to challenge the reasons behind why certain things are done a certain way, especially when it seems to happen "because that's the way it has always been done."
As the HTM profession gains more visibility, Waninger mentions two other avenues to help keep up with new technologies. First, she believes strongly in introducing new perspectives into her team through internships. She hires interns every semester.
"The perspective younger people bring in is wonderful," she said.
Second, she believes all students in the field should take a course in change management.
"People may think they are capable of adapting to changes pretty easily, but most of us really are not as good at that as we think we are," she said. "You can see evidence that changes in technology drive changes in all other aspects of our lives, which in turn leads to more changes in technology. Knowing some strategies for dealing with change is useful."
Her own education at Purdue offered Waninger a solid foundation for a career in healthcare technology. Her classes in the College of Technology provided the technical background she needed to understand how medical machines operate. In addition, her electives in psychology, economics and technical writing helped with her leadership responsibilities.
Waninger is a contributing writer for TechNation magazine, is a member of the executive committee of the AAMI Technology Management Council, and was the first recipient of the MD Publishing Professional of the Year Award in 2011.