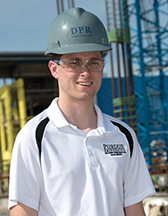 Kenneth Beckwith, a senior building construction management (BCM) major, will be honored Jan. 30 as the Greater Lafayette Chamber of Commerce 2013-14 Community Activity Recognition Award winner.
The award honors college students who go above and beyond the average call for local community activities while maintaining a high level of academic achievement. Beckwith has been a volunteer with the local Lego League, Almost Home Humane Society, and Cary Camp. On campus, he coordinates BCMentors, a student group that strives to help all BCM students succeed.
Beckwith will be honored during halftime of the Purdue/Penn State women's basketball game Jan. 30 along with two other individuals and three organizations.
Read more about Beckwith (from the annual recruitment brochure).