Re-Imagining Your Curricula workshop
Thursday, August 29, 2013 - 9:00am
to
Friday, August 30, 2013 - 2:00pm
Thursday, August 29, 2013 - 9:00am to Friday, August 30, 2013 - 2:00pm
Add to Calendar
Re-Imagining Your Curricula

A workshop promoting active student engagement, intrinsic motivation

August 29-30, 2013
STEW 310
Two professors from Olin College of Engineering in Massachusetts will conduct a workshop for Purdue faculty highlighting the college's success in re-imagining its curriculum. Olin College's curriculum aims to prepare students "to become exemplary engineering innovators who recognize needs, design solutions, and engage in creative enterprises for the good of the world."
This interactive, two-day workshop will include discussions and projects on:
Project-based learning
Student motivation
Self-directed learning
Student autonomy
Curriculum design
Implementation rewards and challenges
Schedule

August 29
9:00 a.m., Introduction
9:30 a.m. - noon, Workshop on Project-Based Learning
Introduce project-based learning goals framework
Engage in an activity from the interdisciplinary Olin College project course, The 'Stuff' of History, in small groups
Discuss and analyze the project experience: use the project goals framework to reflect upon the learning outcomes of the project
Discuss student outcomes and faculty experiences in Olin's project-based courses
Noon - 2:00 p.m., Lunch and follow-up discussions
2:00-5:00 p.m., Meeting and discussions (specific groups will be invited to these discussions)
August 30

9:00 a.m.-noon, Workshop on Student Motivation and Course Design
Introduce intrinsic motivation framework
Faculty groups modify a sample course called Engineering 100
Identify potential ways to improve student motivation by increasing competence, relatedness, or autonomy
Course design presentation: implementation challenges and strategies
Begin connecting goals to activities, assessments, and deliverables

RSVP to Janet Ebershoff by August 23, 2013
Your presenters

Jonathan Stolk
Jonathan Stolk is a Professor of Mechanical Engineering and Materials Science at Franklin W. Olin College of Engineering, where he offers project-based experiences in science, engineering, design, and interdisciplinary areas. Since Dr. Stolk joined Olin College in 2001, he has been a leader in the development of innovative undergraduate courses and curricula, and in exploring how and what students learn in non-traditional programs. He has designed numerous project-based courses in engineering and science, and he has extensive experience in the implementation of cross-disciplinary integrated course blocks. Full bio.
Robert Martello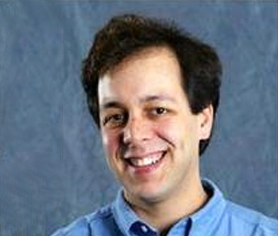 Robert Martello, Professor of the History of Science and Technology (Ph.D., MIT, 2001) has led Olin College's Arts, Humanities, and Social Science curricular development since 2001. Dr. Martello has developed a number of Olin courses that use self-directed learning techniques to integrate humanities and social science skills and content -- including ethical theories, sustainability and environmental impact analyses, exercises to foster writing across the curriculum, and case studies in the historical context of science, technology, and engineering -- with technical concepts and competencies. He published several papers and delivered numerous presentations and workshops investigating the relationship between interdisciplinary integration, self-directed learning techniques, and student motivation. Full bio.