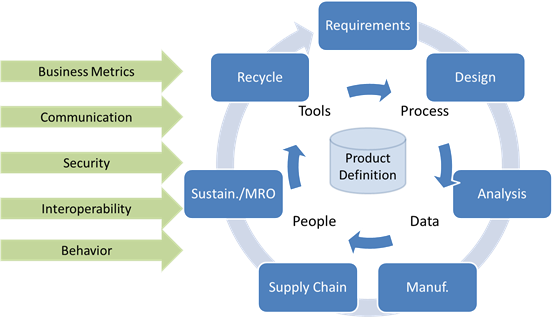 Product lifecycle management is a methodology for product development, production, and sustainment in which information technology tools and processes allow a company increased access to digital product definition data to make better business decisions.
Underlying this methodology is a collection of interconnected tools and processes that form a digital thread of product information that reaches throughout the lifecycle of a product. PLM defines and controls data collection processes, enables systems integration, promotes and supports corporate transformation, aids in analysis and visualization processes, and establishes an information framework for the design, production, supply, and sustainment of a product.
These efforts are done in the context of the business environment, where proper access to information by those who need it is increasingly important. Business decisions and communications are informed by the ability to leverage and digest digital product data when making a decision according to defined business metrics. Yet none of the information needed by the various authors and consumers within the organization can be made available without adequate interoperability between the various systems used on a daily basis. Inadequate interoperability is a daily occurrence with modern PLM tools and technologies, costing companies billions of dollars annually in an inefficient struggle to achieve accurate communications. For the PLM Center at Purdue, this is an ongoing area of research.