VU Students: Applications are NOW OPEN for Fall 2020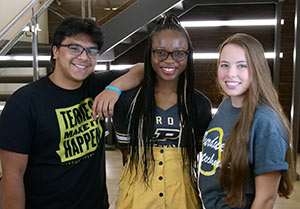 Build a Great Technology Career
All in Vincennes, Indiana at the VU College of Technology
The Purdue Polytechnic program allows Vincennes University graduates to continue their technology education at the Vincennes, Indiana campus.
Our universities make a great team for aspiring technology students who feel comfortable in smaller class sizes and want to save money on college expenses.
Round Out Your Education at Purdue
Work toward a Purdue Technology Degree. From businesses to industries to government, Purdue's multidisciplinary technology program will give you the skills to focus on the management, operation, and maintenance of complex technological systems.
VU Students should apply to Purdue a full semester before Purdue admission. It is recommended that current students meet with a Purdue advisor to ensure that all program requisites are met.
Current VU Students - Visit Us to Learn More
Visit our Student Affairs office in the VU Technology Building, (Building TB10), Room A101 to learn more about our programs, application deadlines, course offerings and more.
Learn More

Phone: (812) 888-4151