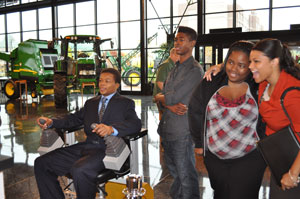 Diversity provides a learning environment that is rich in perspectives. In today's global economy, it is essential for students to be exposed to and gain appreciation for individual perspectives derived from varying cultural, gender, and socio-economic backgrounds.
It is the goal of the Purdue Polytechnic Institute Technology Diversity Program to create a climate within the college that fosters and values diversity and welcomes all students, faculty, and staff.
Diversity Courses and Student Organizations:
Courses:
TECH 100: Technology Freshman Seminar
This freshman success seminar is designed for the incoming freshman who wants to succeed! Open to all Purdue Polytechnic students, TECH 100 provides an introduction to academic and non-academic support services available at Purdue. Students learn skills and strategies to help succeed in their classes. The class meets once a week for one hour of credit during the fall semester.
TECH 101: Women in Technology: Exploring the Possibilities
This is the class where students hear it like it is from women currently working in technology-related fields. Students meet career professionals and faculty involved in a variety of technology disciplines and hear their personal stories, gain an in-depth view of the emerging role of women in technology, and learn the academic and interpersonal skills and strategies needed to succeed in a technology-related career. They also have the opportunity to network with upperclass women and find encouragement and support from other first-year female Polytechnic students. The class meets once a week for one hour of credit during the fall semester.
Student Organizations:
Women in Technology (WIT) was founded in 1998 and is dedicated to promoting the leadership of women in technology through networking, mentoring, outreach, and service. Some of WIT's activities include bringing speakers to campus to talk about topics relevant to female students in the technology industry, providing a mentorship program for females in the Purdue Polytechnic, organizing the annual Spring Etiquette Dinner, and recruiting women into technology by supporting the Purdue Polytechnic's Diversity Program's DOiT and WOWiT programs.
The Minority Technology Association (MTA) is an active organization where students enhance their university experience through various activities throughout the school year. Members participate in business acumen, networking and other business-related activities, and community service events. The organization also serves as a social outlet for its members, with game nights, bowling or other activities.
MTA is dedicated to excellence in academics, personal, and professional growth and promotes friendship amongst its members. In addition to general meetings, and activities, MTA is proud to assist the Diversity Programs Office with their spring high school recruiting workshop: Vision.
Purdue/Technology Diversity Student Organizations:
Two female Purdue pilots compete with war veterans, general aviation pilots, and other collegiate teams in a race across the country. A ground crew assists the flight team in planning their route and monitoring flight conditions.
All majors welcome!
(Most applicable to aviation, meteorology, aeronautical engineering)
FRRI
The Female Recruiting and Retention Initiative (FRRI) focuses on majors offered by the School of Engineering Technology.
NOGLSTP at Purdue is a self-governing regional group affiliate of the National Organization of Gay and Lesbian Scientists and Technical Professionals, Inc. (NOGLSTP). Our purpose is to encourage and promote an environment for Lesbian, Gay, Bi-sexual, Transgender and Queer (LGBTQ) students, faculty, staff, and their partners at Purdue (especially in the Colleges of Engineering, Science, and the Purdue Polytechnic Institute) that is supportive and inclusive and free from discrimination and bias.
Women in Construction Management promotes the positive aspects of being a woman in the construction industry through community involvement, volunteer work and career oriented activities
Women in Aviation educates and promotes awareness of women in aviation and develops personal and professional relationships in the aviation industry.
It is a chapter of Women in Aviation, International, a nonprofit organization dedicated to providing networking, education, mentoring and scholarship opportunities for women and men who are striving for challenging and fulfilling careers in the aviation and aerospace industries.