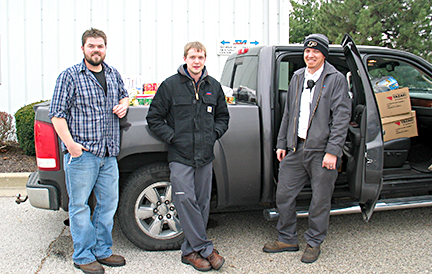 (Photo: Students Tim O'Neill, Luke Phillipo and Bobby Cunningham prepare to deliver food donations to Food Finders Food Bank.)
Students at Purdue University's College of Technology at Lafayette delivered 2,369 pounds of food to Food Finders of Lafayette just before Thanksgiving.
The effort was part of the location's annual holiday food drive, designed to collect non-perishable food items for families in the community who need help. During the five years of the project, the student-organized food drive has contributed more than 9,000 pounds of food and supplies to the local organization.
"It is a wonderful opportunity to give back to those in local communities who are struggling financially during the holiday season," said student ambassador Wende Standefer. "The students and staff of the College of Technology Lafayette are proud to be able to make a difference."