Updated Feb. 12, 2020
"Strategic Doing: Ten Skills for Agile Leadership," with a foreword by Yo-Yo Ma, arrived in bookstores May 7
WEST LAFAYETTE, IND. – Three instructors from the Purdue Polytechnic Institute's School of Engineering Technology released a new book entitled "Strategic Doing: Ten Skills for Agile Leadership" on May 7. The publication uses compelling case studies to illustrate new techniques of collaborative leadership in business and other organizations.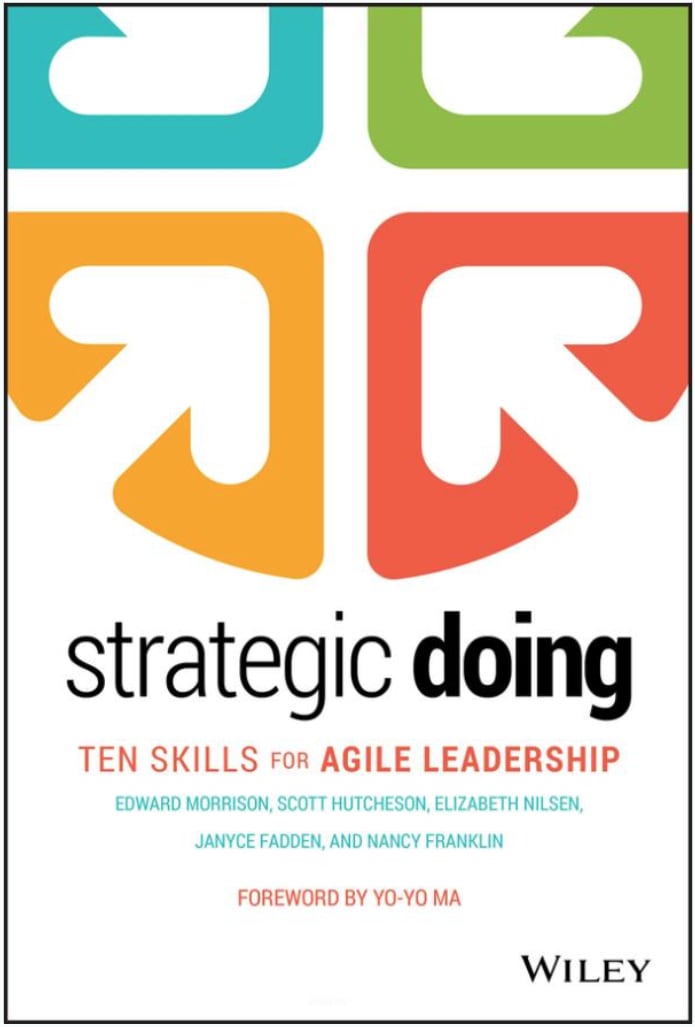 The three Purdue co-authors are Edward Morrison, director of the Agile Strategy Lab; Scott Hutcheson, associate director of the Agile Strategy Lab; and Elizabeth Nilsen, senior program director at the Agile Strategy Lab. Morrison, Hutcheson and Nilsen collaborated on the book with Janyce Fadden, director of strategic engagement at the University of North Alabama; and Nancy Franklin, Strategic Doing fellow at the New Jersey Innovation Institute.
The Agile Strategy Lab, a collaboration hub in Purdue University's Discovery Park research district, specializes in "collaboration science," which fuses disciplines such as design thinking, agile methodology, innovation science, lean, social labs, asset-based development, appreciative inquiry and collective impact. The goal of many of these collaboration strategies is to improve products and services based on what customers and clients want and value.
"Each of these approaches has tremendous value in specific situations, and begs a larger question: how can people work together effectively in a rapidly changing world?" said Morrison. "Complex challenges are impacting our companies, our communities and our planet, and changing the practice of strategic management. Today's leaders need to understand how to design and guide complex collaborations that cross boundaries, both inside and outside organizations, to accelerate innovation and change."
Morrison met Yo-Yo Ma, the acclaimed Chinese-American cellist, at a workshop. "He explained the impact of our work and graciously agreed to let us include his comments as a foreward in the book."
"I am deeply committed to making music part of working in culture for social impact," Ma said. "I believe music, as in all disciplines, was created to serve and benefit humans. 'Strategic Doing' is a book that makes culture for social impact possible. In our highly specialized, competitive, hierarchical society, collaboration is notoriously difficult. Imagine a book that offers practical, doable advice, allows for maximal participation, fosters resilience, encourages experimentation with timely action, all for the sake of working for the greater good."
Find "Strategic Doing: Ten Skills for Agile Leadership" at bookstores or online.
Update:

Since its release last May, the book "Strategic Doing: Ten Skills for Agile Leadership" (Wiley), which was written by instructors from Purdue Polytechnic's School of Engineering Technology, has been quite successful. It was named one of the Top Business Books of 2019 by Soundview Magazine, and was the #1 New Release in six different Amazon categories: Business Management, Systems and Planning, Project Management, Strategic Business Planning, Strategy and Competition and Strategic Business Management.
One of the authors, Scott Hutcheson, associate director of Purdue's Agile Strategy Lab, will offer professional development training based on the book several times in 2020.
"This is a training that we've been doing for years before the book and will continue to do it moving forward," said Hutcheson. "Interest, however, has increased since the launch of the book."
For information on Hutcheson's professional development training, visit strategicdoing.net/event/strategic-doing-301-purdue-university.
About the Purdue Polytechnic Institute

The Purdue Polytechnic Institute is one of 10 academic colleges at Purdue University, offering undergraduate and graduate degrees in a range of disciplines: aviation, computing, construction management, engineering technology, technology leadership and technology education. In addition to Purdue University's main campus in West Lafayette, Indiana, Purdue Polytechnic offers select degree programs in nine Indiana communities.
###
Media Contact:
Melissa Templeton
Director of Marketing and Communications
Purdue Polytechnic Institute
templetm@purdue.edu
(765) 496-0094