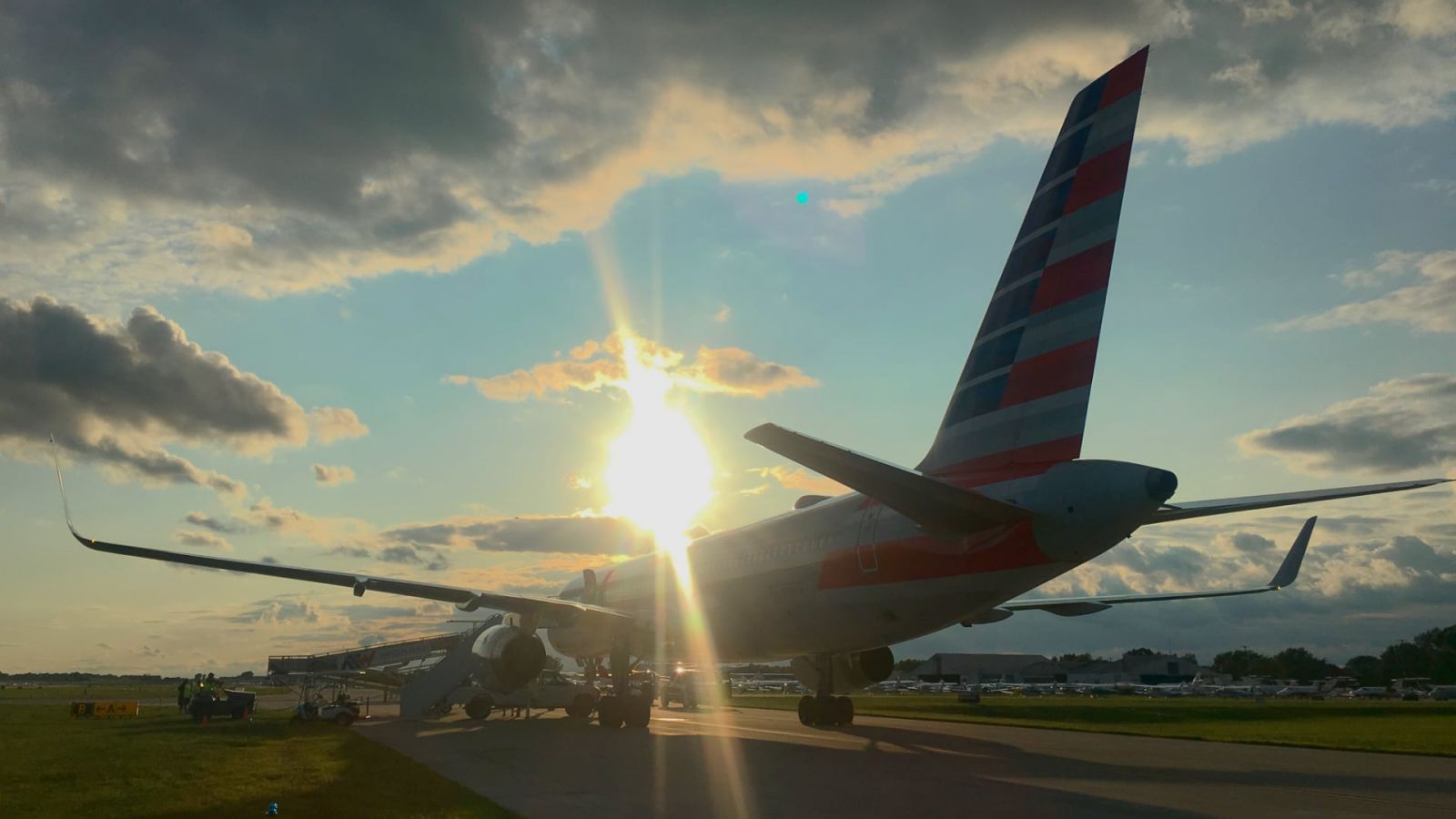 Stacy Lutes (BS '04, AT), a pilot at American Airlines, shared her experience flying the 2018 Yellow Ribbon Honor Flight from Oshkosh, Wisc., to Washington, D.C. last July.
Purdue can land you anywhere, even in a Boeing 757 during EAA's AirVenture in Oshkosh, Wisc.!
I was the first officer on American Airline's B-757, N193AN. We arrived July 26 in preparation to operate the 2018 Yellow Ribbon Honor Flight to Reagan National Airport in Washington, D.C. Following the day in D.C., a different flight deck crew returned the Vietnam veterans to Show Center.
We met the aircraft, crew, volunteers and a few passengers at the Dallas/Fort Worth Airport that afternoon. We had a NOTAMs (Notices to Airmen, the FAA special flight authorization), company advisories and a set arrival time. The ILS (Instrument Landing System) was out of service, so we cued up the area navigation RNAV (GPS) 36.
Oshkosh advised Milwaukee Approach that they were not quite ready for us, so we held at the Initial Fix about 12 miles south of the field (two turns) before being handed over to Oshkosh Tower. We were cleared for the Visual 36L and then cleared to land. The captain made a nice touchdown and rollout. Per the 2018 Oshkosh NOTAMs page 1, we put an "FBO" (Fixed Base Operator) sign in our left windshield to designate our parking location. However, there aren't too many places to put a B-757 at Oshkosh! In fact, we were quite in the way. We had to be careful of our taxi plan to stay on pavement that could hold our weight and we had to avoid taxiing our wings over other aircraft. And then there's jet blast. We taxied as far north as we could and then shut down our engines to be towed to our overnight parking space. We may have been having a little fun with our "FBO" sign, but everyone noticed when we opened both windows to display our flags. The captain had the U.S. flag, and I displayed the black and white POW/MIA flag. Once we were parked, we completed the checklists and secured the aircraft for the overnight.
I was a little disappointed that we did not have more time to walk around and see the grounds, but being well rested to spend time honoring the veterans on the following day was more important.
Dark and early the next morning (July 27), we arrived to find veterans and their volunteers arriving at the FBO. American Airlines Veterans Initiative personnel introduced us to the veterans, and we were then whisked away to begin our preflight duties.
Logbook, fuel, crew, passengers, cargo, IFR clearance: all checked. Ready for departure. Departing Runway 18R. We depart with 130 Vietnam veterans, their escorts, six crew members, 23,000 pounds of fuel and 140 pounds of cargo. We weighed approximately 195,000 pounds, 60,500 pounds below our maximum certified takeoff weight. At 131 KIAS (Knots-Indicated Air Speed), I rotated to 10 degrees pitch up, and we were on our way!
Arrival into Washington, D.C., can be challenging with high traffic volume, prohibited areas, and runway length/hazards. (Interestingly, Oshkosh runway 36's Landing Distance Available was 7,602 feet, and it's 6,869 feet at Reagan runway 19.) This day was no different. After being vectored off the FRDMM 4 RNAV arrival, we were cleared for the River Visual 19. I was unable to "slow down and go down" before a safe altitude, so we executed a go around and climbed back up to 3,000 feet. We came back for another approach, and this time everything looked much better and safer. I made a decent touchdown followed by a smooth rollout, and we were soon taxiing to our gate with a water cannon salute. Honor Flights arrive at Terminal C, Gate 38. The airport arranges the water cannon salute, and veterans arrive inside with a band playing and "Welcome Home" signs. It is very moving.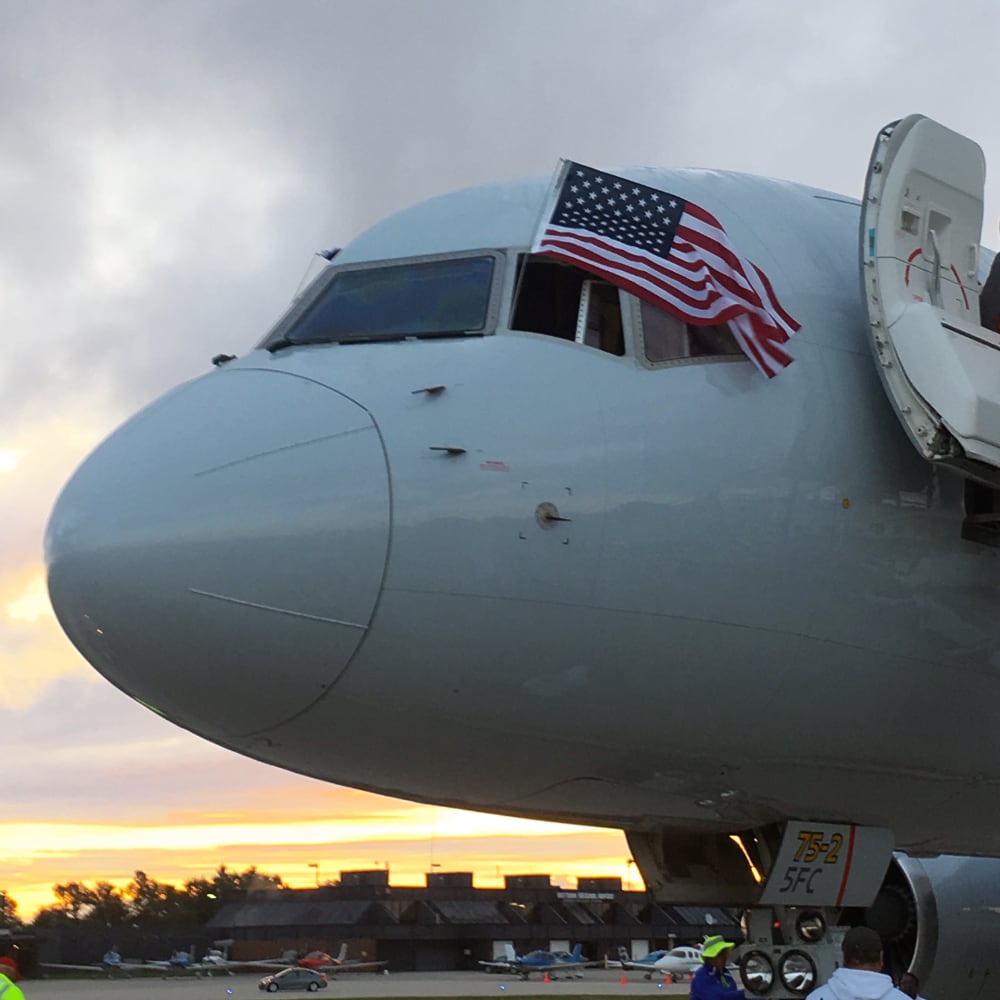 This completes our flying portion of the day, so the captain and I changed into our volunteer polo shirts and met the rest of the group in front of the terminal. We had four tour buses and a police escort to get us where we need to go. Our first stop was the Vietnam Veterans Memorial. Each veteran was given a white carnation flower to keep or to place near the name of a loved one on the wall. Some made etchings; some touched the wall where their fallen hero's name is forever memorialized in history. The group placed a floral wreath in the corner, and we slowly moved on, physically and emotionally.
Many walked over to the Korean War Memorial nearby. After spending some time outside, it was time to get back on the air-conditioned tour buses. We had lunch on the buses on our way to the next stop, the National Museum of American History. We could have spent more than a day in this one museum, but we were encouraged to seek out "The Price of Freedom: Americans at War" and "The Star Spangled Banner" exhibits. The latter includes the actual flag from Fort McHenry in Baltimore, Md., that inspired Francis Scott Key in 1814 to write the song that eventually became the national anthem.
We went next to Arlington National Cemetery to witness the Changing of the Guard. It was quiet and moving. We were all getting a little tired, but our last stop was the United States Air Force Memorial near the Pentagon. We had fantastic views of the city and a little time to stretch before heading back to Reagan National Airport.
Before leaving, we met the outbound crew and expressed how enjoyable experience was for us. We knew they would be getting another water cannon salute back at Oshkosh and have a hero's welcome. They would be parked at Show Center for deplaning.
As I reflected on the day, I thought about how I got there. Every person's journey is different, and your destination may change. But with experiences from Purdue, you have the foundation to be successful. Every EAA AirVenture experience is unique. While this one was short, it was humbling and memorable. The organization that began with home-building welcomes all facets of aviation: civil or military, jet or prop, or both. I am grateful for the opportunity to have flown such an iconic aircraft to an iconic event for the purpose of serving the men and women that served their country.
American Airlines partners with the Congressional Medal of Honor foundation, Airpower Foundation and the Gary Sinise Foundation to thank military members for their service.
The Honor Flight Network is a non-profit organization dedicated to providing veterans with honor and closure. Old Glory Honor Flight is a regional hub for the network, normally operating out of Appleton, Wisc. This specific Yellow Ribbon Honor Flight operated out of Oshkosh, Wisc., during EAA AirVenture.