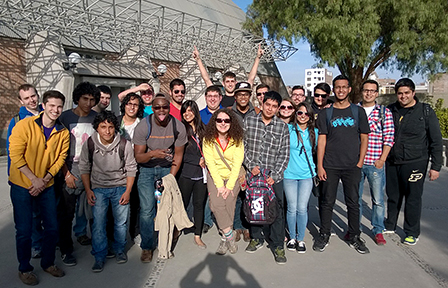 Victor Barlow, assistant professor of computer and information technology, is on a mission to change the world through his summer study abroad course, Unified Modeling Language and Mobile Application Development.
"I believe that the world will become a better place if we build bridges between people and cultures. So if I can change the world 20 students at a time, I will count it a success," Barlow said.
He and Raymond Hansen, clinical assistant professor of computer and information technology, have led the study abroad program for seven years. For the last three years, the course has focused on its current topics.
Barlow said this study abroad holds some special advantages for students. While they make sure the students are able to travel and see the sights, they keep the main focus on academics and collaboration with Peruvian students and faculty. The final project had teams of students from both countries working together to create banking apps.
Even with a strong academic focus, Barlow said the biggest benefit to a study abroad experience is the cultural enrichment.
"The students, on arrival to Peru, seem a little out of their element. What has happened every year is that by lunch time, they begin to bond with the Peru students because of how much they have in common; they like the same music, movies, bands, TV shows and video games," he said. "As the experience goes on, they begin to realize that they have more similarities than differences."
On a daily basis, students gain insight from their new experiences, from dealing with foreign traffic and eating new foods to adapting to differences in meal times.
For the last few days of the class, Barlow and Hansen turn to a strictly cultural schedule. They take students to visit some of Peru's treasures: Iquitos, the largest city in the Peruvian rainforest; Machu Picchu; and Colca Canyon, which is estimated to be twice the depth of the Grand Canyon and is home to the Andean condor.