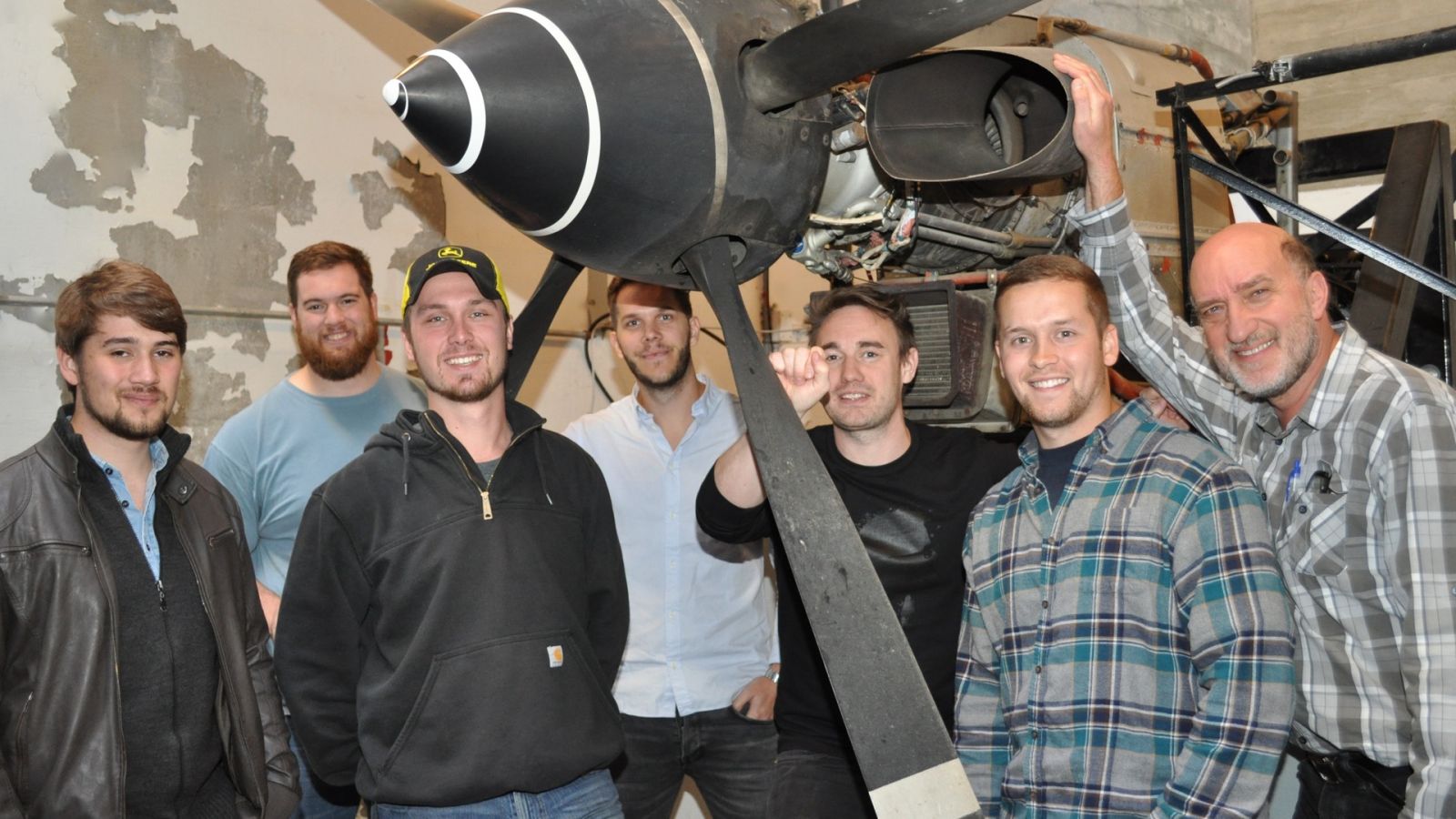 A team of students from the Technical University of Denmark (DTU) visited Purdue University for a week during a semester-long collaboration with students in AT 49000, an international capstone course in Purdue Polytechnic's School of Aviation and Transportation Technology.
Simon Bjerg, Kristoffer Hansen, and Anders Joergensen, undergraduate students majoring in IT electronics at DTU, partnered with Keith Burkhead, Trevor Rapp and Nick Simone, seniors in aeronautical engineering technology at Purdue, to create a mobile app for an engine test cell in the Niswonger Aviation Technology building.
"We wanted to increase safety and smoothness in the use of the test cell's engine," Simone said. "We thought that creating an app would help reduce human error, reduce variables and standardize using the engine every time."
The app provides a checklist with illustrated instructions at each step for starting the Pratt and Whitney PT6 advanced turboprop jet engine. It also provides a place for students to record data values they gather during engine operation, including exhaust gas temperature, oil temperature and oil pressure.
"Over time, we'll see how those values change. When they track up or down, it will give an indication of the internal health of the engine," said Simone.
"Tracking this data will help us be proactive with maintenance of the test cell engines," said Sergey Dubikovsky, associate professor of aviation technology. "We hope it will lead to shorter downtimes for the engines and increased availability for hands-on learning."
"We have a multidisciplinary, multicultural collaborative project in a team environment. Immersions like this will help ensure our students will be successful after graduation." The Purdue student team served as the aviation technology experts during the collaboration, defining the scope of the project and communicating via email with the DTU team for the first nine weeks of the fall semester. The DTU team served as the information technology experts, designing and coding the app to the specifications provided.
Collaborating was challenging for both teams until the DTU team's late-October arrival in West Lafayette.
"Shadowing the guys around the lab helped with our understanding of how to design the app," Hansen said. "The design process makes more sense when you can see and understand the workflow. It's our first time making an app, and we had to learn a new programming language for this project."
The campus visit helped both teams redefine the scope of the project, making sure it provided sufficient functionality for current and near-term aviation engineering technology students while providing an adequate programming challenge for the DTU team. The teams worked together to keep "scope creep," the increase in quantity and depth of features to be implemented in the project, at a manageable level.
"We didn't have much scope creep in the beginning," Dubikovsky said. "If you add one or two features, it's okay. But if you want to add 15 new features, it can be problematic."
"It helped to learn about scope creep," Rapp said. "We did get to a point where we realized we were going too far and that we can't do everything at once."
"Engineering is an iterative process," said Burkhead. "It's the nature of the business when you're developing a product."
Even though they share a common language, both teams found that spending several days together helped bridge a cultural gap.
"In the beginning, talking only via email, the learning process was slow," said Rapp. "One of the lessons we learned is that face-to-face interaction helped eliminate ambiguities."
"We had different styles of writing," Simone said. "The project was not going very fast, and it was frustrating."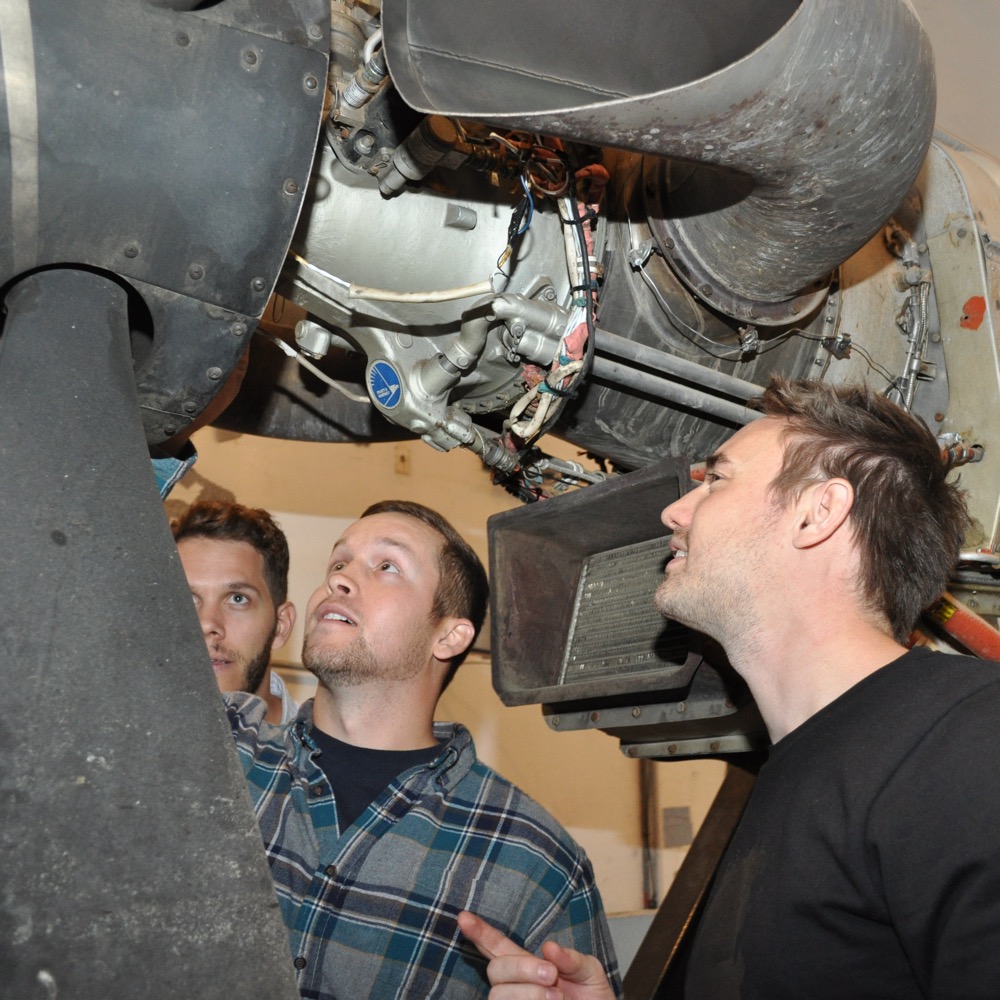 Dubikovsky said it was very helpful for the DTU students to gain firsthand familiarity with the test lab. "If you try to explain to someone who has never seen or tasted an orange what it's like, it's pretty tough to do. We had some hiccups. Both teams were using the same tools, but we call them different things. We had to get past that miscommunication."
"I took a trip to Europe with aviation engineering technology students last spring," said Burkhead. "It was great, but working with Anders, Kristoffer and Simon here at Purdue was actually more helpful. We got to know each other over the course of the week. Working together on a project and sharing our everyday lives provided immersion at a whole new level."
Traveling more than 4000 miles also provided a unique perspective to the DTU students.
"When we got here for our first meeting, we realized we were here on our own, without supervision," said Hansen, noting that their instructor, Professor Anna Friesel, remained at DTU's Ballerup campus. "We were carrying out this process by ourselves for the first time, like professionals. That's a good feeling."
"International collaborations like this are essential as we transform curricula for the aviation industry's current needs," Dubikovsky said. "We have a multidisciplinary, multicultural collaborative project in a team environment. A design-build project like this helps students go through problem-solving phases typically experienced by engineers on a global scale. Immersions like this will help ensure our students will be successful after graduation."
Dubikovsky plans to make this an ongoing project. The first version of the app allows students to manually enter engine operating data, for example. A future version could allow for automatic data acquisition by interfacing with new digital engine controllers currently being developed for the Niswonger building's engine test cells. Additionally, a startup checklist for Niswonger's Garrett F109 turbofan engine could be added, ensuring consistency and safety for multiple test cell engines.
Students enrolled in spring 2018's independent study course will determine the project's scope with their Danish counterparts. "A different group of AT 490 students will travel to Denmark to work with a new DTU student team. The final say in the project's selection is theirs," said Dubikovsky.
DTU has exchange programs with more than 200 universities around the world. "They offer cross-disciplinary and project-based programs similar to Purdue Polytechnic's," Dubikovsky said. "It's a perfect match, and we hope to nurture this relationship."
Additional information: