As the College of Technology's December 2012 graduates complete their time at Purdue, we are profiling a few and finding out their future plans and how they arrived at this point in their lives. Commencement is December 16, 2012.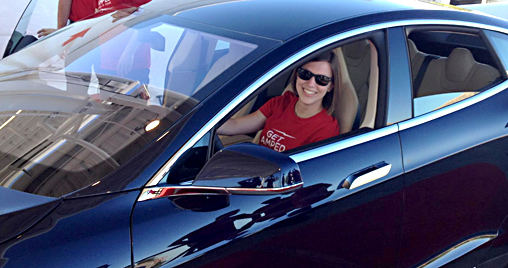 Sam Schreiber, Fort Wayne, Ind.
Technical illustrator for Tesla Motors in Fremont, Calif.
Education
Bachelor's degree in computer graphics technology
Job duties
Create 3D CAD animations for technicians and assemblers
Create detailed 2D and 3D graphics for training service technicians
Graphic design of certificates, awards, displays, etc.
CATIA/CAD support
Riding around in awesome electric cars
Purdue classes that helped Sam for her job
All of the classes in the virtual product integration (VPI) track of CGT really helped me develop my modeling skills and gain fluency in CATIA and other CAD software.
I really enjoyed the graphic design classes I took from the multimedia track as well. They allowed me to explore and develop my creative skills in addition to my technical CAD skills. Blending graphic design and CAD has proven to be a unique combination that is well suited for jobs like technical illustration.
While my coursework gave me a good technical foundation, the extracurricular opportunities available through the College of Technology and Purdue are really what gave me the experience I needed to be prepared for the real world.
Other ways the College of Technology and/or Purdue provided preparation and assistance
Gaining work experience through co-op and internship was invaluable to my education. I spent two semesters as a co-op at Gulfstream Aerospace. My first rotation was working with PLM and CAD Support, and my second rotation was working with 3D printing and 3D scanning. I also interned at Tesla Motors this past summer, which led to me accepting a full-time job there. These jobs gave me the confidence that what I learned at Purdue prepared me for the real world.
Being involved with Purdue Solar Racing gave me confidence in my own abilities. As one of only a few technology majors on the team, I realized there were a lot of skills I could contribute that the (mostly engineering) team lacked. For example, I took on the role of CAD director in which I was able to share what I had learned in CGT to train others in CATIA and good modeling practices. This was a great opportunity to try out the things I learned in class in a real environment. The team also provided me with opportunities to apply my graphic design skills, learn about composites and engineering management, and network with industry professionals and alumni.
The College of Technology has a lot of really cool research programs available to students, and I highly recommend it for any student looking for ways to add experience to their resume. For example, I was involved with the National Test Facility for Fuels and Propulsion, a research program in the Department of Aviation Technology. I learned so much about the field of aviation and where it is going through my research involving biofuels.
Thanks go to:
My parents for all their support and love throughout my scholastic career
My boyfriend, Mark Welch, a fellow College of Technology grad (MS&BS AET), who encouraged me to take advantage of the many opportunities Purdue has available (and taught me how to drive the solar car!)
The CGT faculty, especially Nathan Hartman for helping find great industry opportunities for students, and Craig Miller for all his great advice and help
Everyone on the Purdue Solar Racing team for all the awesome things we have accomplished together
(Photo: Sam Schreiber, who interned with Tesla Motors as a student, has accepted a job with the company. She is pictured behind the wheel of one of Tesla's vehicles.)