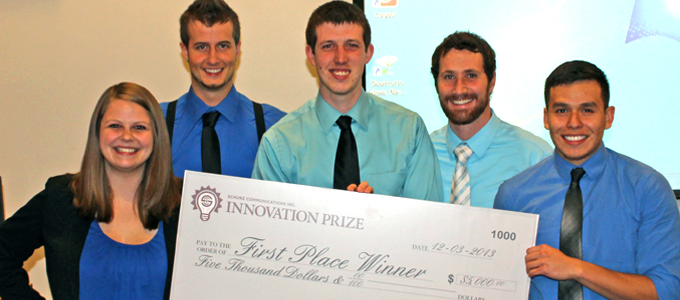 (Photo: Leah Thompson, Andy Gault, Matt Ryker, David James and Edgar Plata show off their first prize. Courtesy photo.)
A group of five computer graphics students won the recent Schurz Communications Innovation Prize at Purdue University. In addition to the $5,000 first-place prize, the group won the $500 Fan Favorite award.
The team won with Impulse, a product that helps large event coordinators incorporate social media into the event experience. Team members were David James, Andy Gault, Edgar Plata, Matt Ryker and Leah Thompson. They created Impulse as part of their CGT 41100 and 45000 classes, which focus on problem-solving and professional practices and serve as their capstone academic experience.
The Purdue-Schurz Innovation Challenge offers undergraduate and graduate students an opportunity to work on a game-changing idea in new media technology, as well as win prize money and develop relationships with a potential future employer.
Read the full Schurz Innovation Challenge award announcement.