The School of Construction Management Technology's fall career fair, held September 28 at the France A. Córdova Recreational Sports Center, provided nearly 800 students opportunities to meet representatives from 184 companies.
"Our career fair is one of the largest on campus which is sponsored by and focuses on one major, but we open the fair to other majors and colleges," said Patti Morgan, student and industry outreach specialist and continuing lecturer in the School of Construction Management Technology.
Morgan noted that approximately 450 construction management technology students attended along with students from the Department of Computer Graphics Technology, Civil Engineering, Exploratory Studies, and Krannert School of Management. Last month's event also attracted students from Ball State University and the University of Illinois at Urbana-Champaign, she said.
Construction Management Technology's career fair has grown significantly in the last 10 years, said Dawn Lamb, outreach specialist and career fair coordinator in the School of Construction Management Technology. The event now requires more than 36,000 square feet of space in Co-Rec gymnasiums.
"We have been strategic about the fair's timing to allow companies to talk with Purdue's construction management students early in the recruitment season," said Lamb. "Our students are talented, and hiring them has become very competitive. Some companies come to the fall fair to focus on filling full-time positions and to make offers to the best of our students."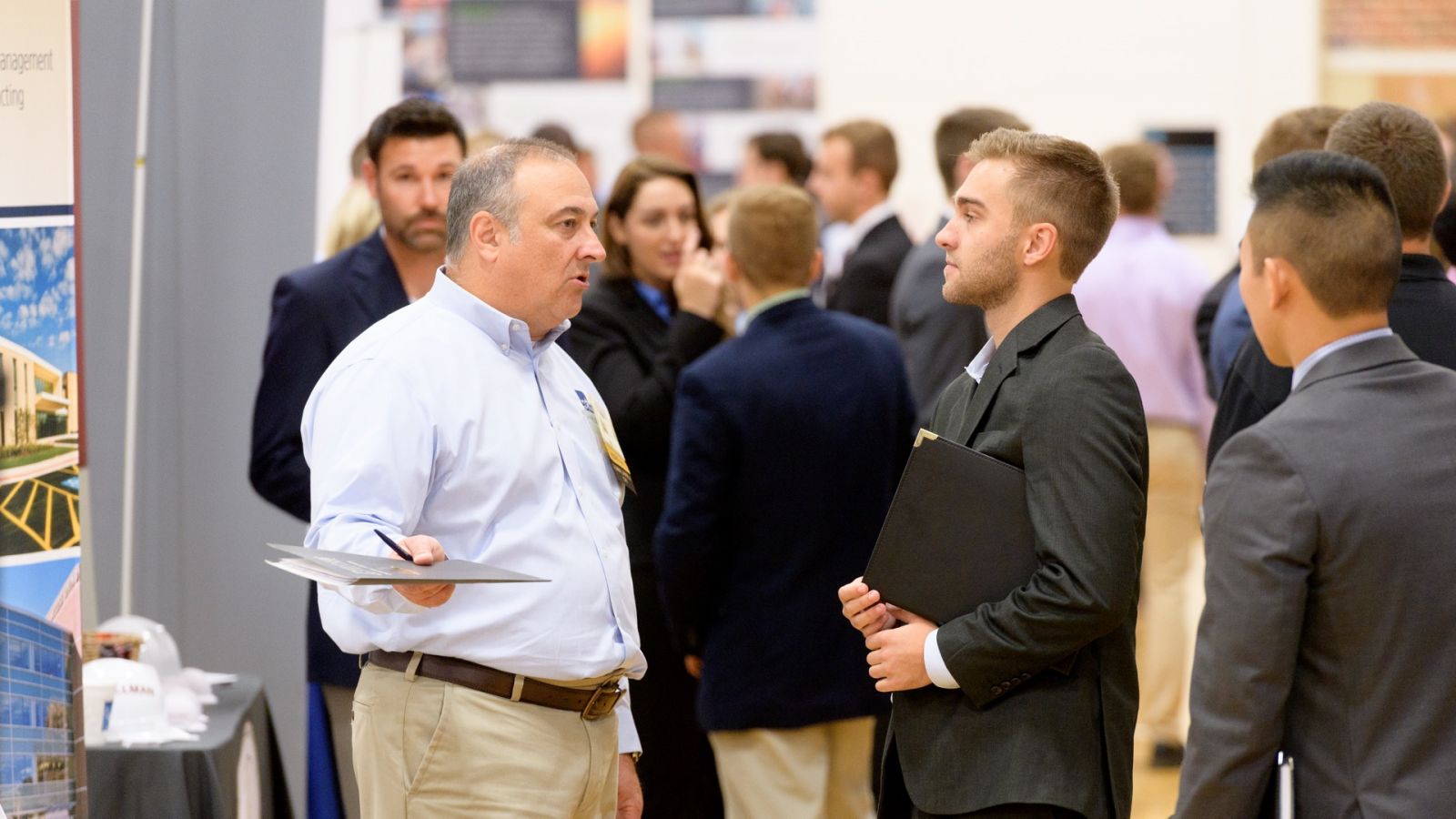 National companies which attended included Skanska USA, Walsh Construction, AECom, Dress Homes, DPR Construction, and Hensel Phelps. Indiana-based companies included Weddle Bros. Construction, F.A. Wilhelm Construction, BMWC Constructors, Tippman Construction, and The Hagerman Group.
"These companies hire from our program consistently," said Morgan. "The market is booming and everyone is looking for good people. Many of our students, whether they're graduating in December or May, have full-time positions confirmed months earlier, or at least have job offers in hand."
The number of participating specialty contractors, including Gaylor Electric, Hill Mechanical, Helix Electric, Glass Solutions, and Custom Concrete, is also increasing.
Students in the School of Construction Management Technology and in related student organizations are instrumental in the fair's success.
"Students assist in overall planning and set up," said Lamb. "They welcome our company recruiters and provide a 'valet' service for them. It provides an excellent first impression and sets the tone for the day. The students also help clean up at day's end. Their efforts are amazing."
The Construction Advisory Council (CAC), a group of 60 companies which provide financial and other support to the school, also plays a role in the career fair.
"They meet the day before the fair to share best practices and provide us information about the industry's current trends and needs," Morgan said. "The CAC also hosts a meet-and-greet, providing a more informal setting for conversation with construction management technology students before the day of the career fair."
Construction Management Technology's spring career fair will be held on Friday, February 9, 2018. A similar number of companies are expected, including some who did not attend the fall career fair. Companies will likely discuss both summer internship opportunities and full-time positions.
Additional information: