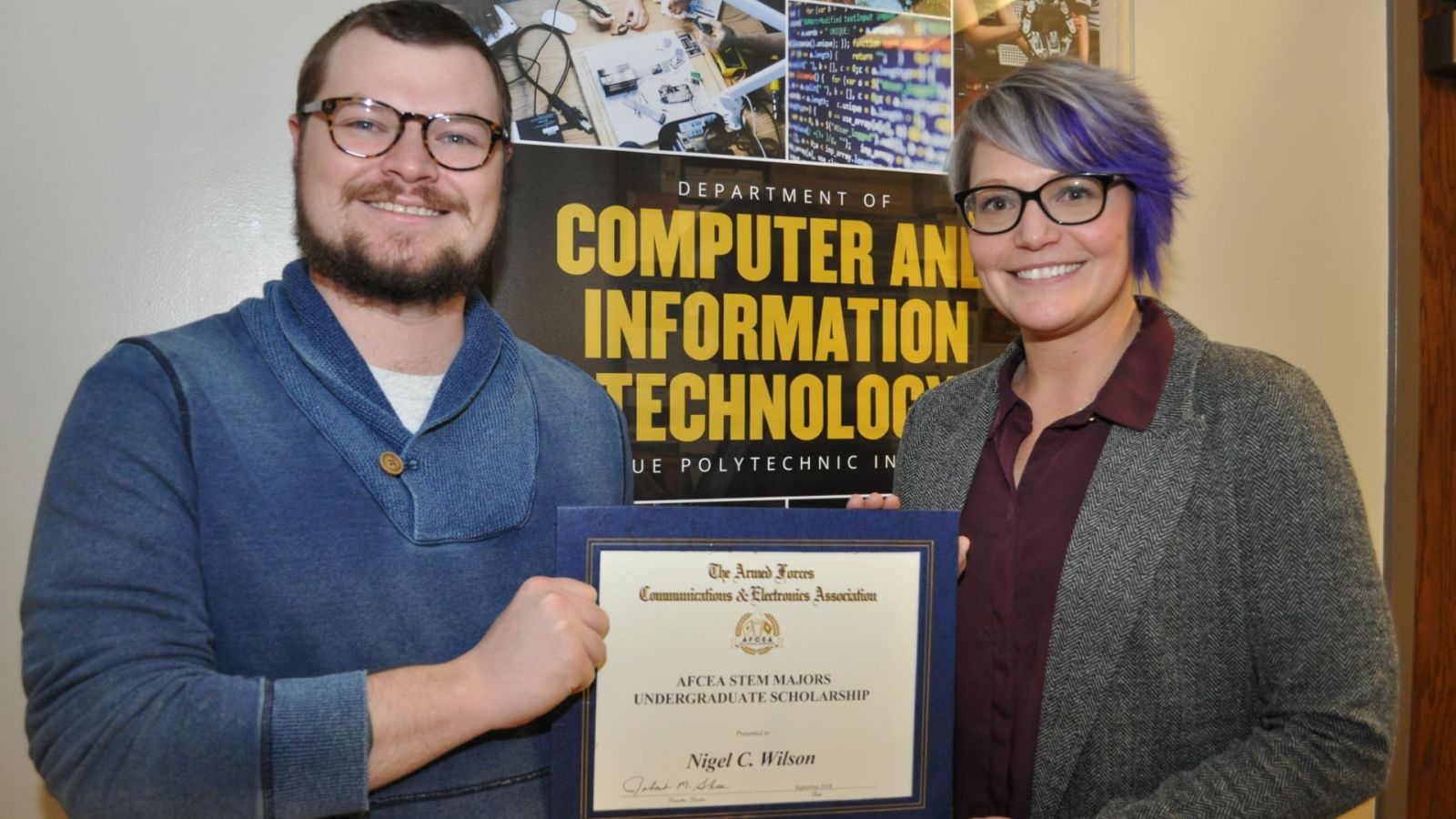 Nigel Wilson, a senior in cybersecurity, has been awarded the Science, Technology, Engineering and Math (STEM) Major Scholarships for Undergraduate Students from the Armed Forces Communications and Electronics Association (AFCEA).
The scholarship is awarded to full-time students in four-year cybersecurity, intelligence or Homeland Security-related programs with a current overall GPA of 3.0 or higher.
A childhood interest in technologies like computers, video games and televisions led Wilson to study cybersecurity at Purdue.
"From a very young age, I was drawn to the hardware aspect of technology and learning how things worked," Wilson said. His interest in hardware evolved into curiosity about how people use technology in their lives and how some people use technology for nefarious purposes.
"Cybersecurity has complexities and depth," said Wilson. "A lot of things come down to getting into the mindset of the criminal or delinquent. Cyber forensics is a perfect blend of human psychology and technology."
Wilson's scholarship application was supported by Kathryn Seigfried-Spellar, assistant professor of computer and information technology.
"Nigel was in my research methods class in fall 2017, and he asked great questions," said Seigfried-Spellar. "You could tell that he was already thinking not just about the course material but how it could be applied to real-world cybercrimes or topics."
Seigfried-Spellar noted that Wilson participated in a summer undergraduate research project and worked at the High Tech Crime Unit in Purdue's Discovery Park, which helped inspire her, along with other faculty in Purdue Polytechnic's Department of Computer and Information Technology, to write letters of support for his scholarship application.
"He has worked really hard and has done well," she said. "I wanted to help show Nigel and other students that their good work can be recognized."
Wilson said receiving the scholarship is meaningful to him.
"Having organizations like AFCEA provide scholarships to cybersecurity students shows that this major is deserving of focus and funding. I am grateful that my hard work has been noticed and rewarded," said Wilson.
AFCEA sent the $2,500 scholarship to Purdue's Office of the Registrar to defray Wilson's tuition expenses.
Additional information: