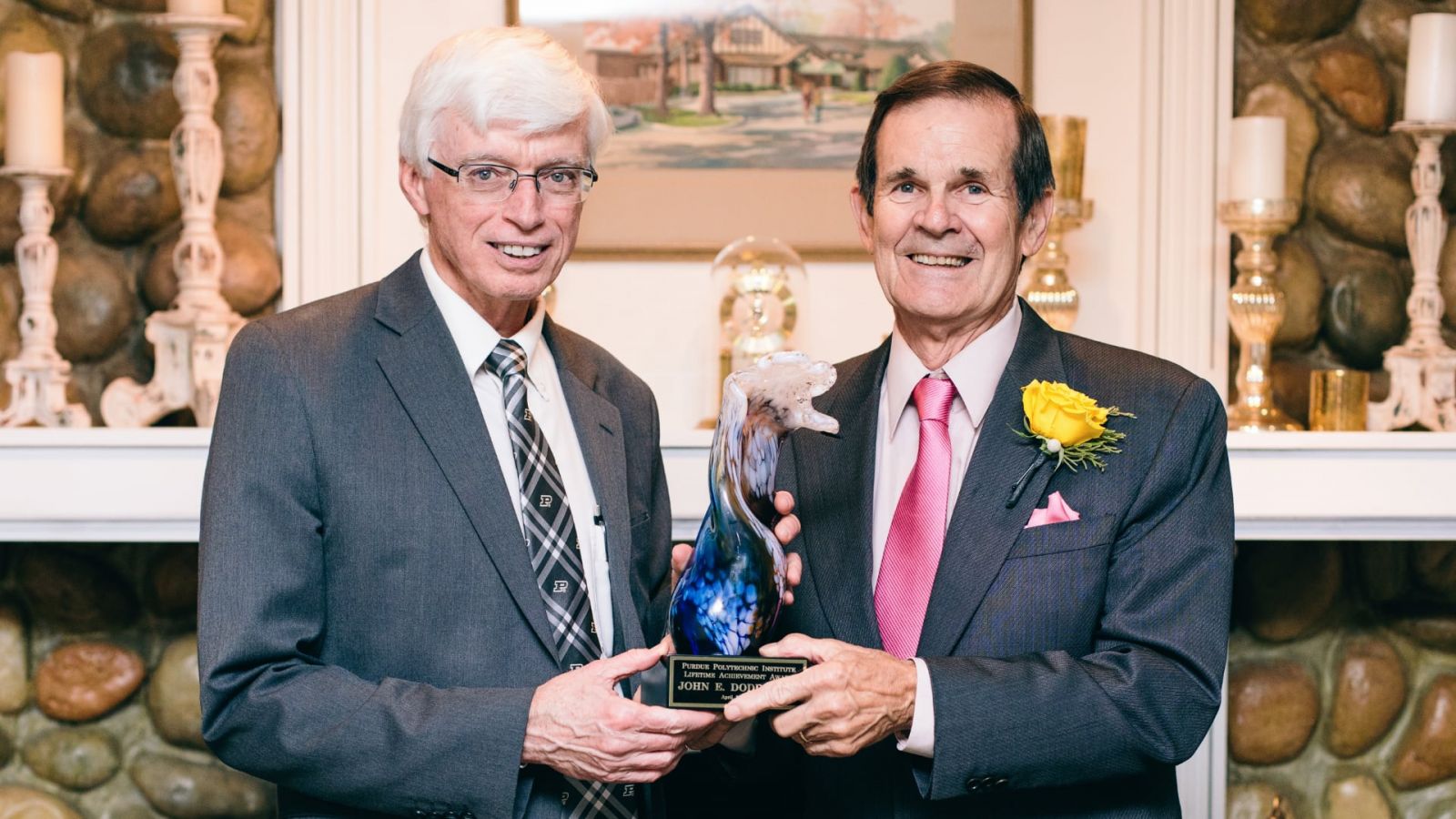 The Purdue Polytechnic Institute presented John Doddridge with a Lifetime Achievement Award. Doddridge, who began his engineering and aviation technology studies at Purdue in 1958, was selected by Gary Bertoline, dean of Purdue Polytechnic, for the award.
Doddridge is the former chairman and CEO of Intermet Corp., a supplier of cast-metal automotive components with operations in North America and Europe. He previously served as CEO of Magna International Inc. and in senior management at Dana Corp. He also served on a number of corporate boards, including Detroit Diesel Corp. and Penske Corp. He has been a member of Purdue Polytechnic's Dean's Council since 2007.
"John offers invaluable support and guidance on our college's academic, research and engagement activities," said Bertoline. "John and Jane Doddridge have also generously provided strong philanthropic support to our college that has made a real impact on students and faculty."
"I am honored to receive this award from the Polytechnic and am thankful for the support of my family throughout my career," said Doddridge. "The training and experiences I received at Purdue helped make it possible to be involved in global businesses and to know people and develop friends from many countries."
The award was presented to Doddridge, a native of Cambridge City, Ind., at the Lafayette Country Club on April 17. Several of Doddridge's former business colleagues, family members and friends appeared via video to congratulate him.
Purdue Polytechnic, formerly the College of Technology, created the Lifetime Achievement Award to recognize respected leaders in national and worldwide industries who have created and advanced a vision of excellence for technology. The award also recognizes these leaders for their significant contributions to the Polytechnic and its mission.