Sandra Dye has taught in the ProSTAR's Weekend Master's Program since she earned her Ph.D. from Purdue University in 2008. Her focus area is conflict management in the workplace, with emphasis on leadership development. She also has taught Leadership and Ethics and Organizational Development and Change at the graduate level. Additionally, since 2002, she has taught several undergraduate courses at Purdue, including conflict management, critical thinking, leading change and team development. She also serves as an operations manager for the Office of the Vice President for Research, assisting other faculty with research funding and various projects across campus.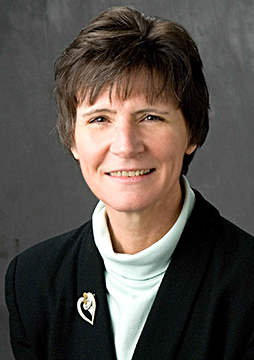 In additional to her Purdue work, Dye serves as an Air Force reservist at Grissom Air Reserve Base and teaches leadership classes around the country for the Air Force Reserve Command (AFRC) Professional Development Center. She has served as first sergeant for the Operations Group, Aircraft Maintenance Squadron, and Maintenance Squadron, which involved multiple deployments around the world. She was promoted to chief master sergeant in 2010. She spent a year at AFRC headquarters at Robins Air Force Base in Warner Robins, Georgia, developing and implementing the congressionally mandated Yellow Ribbon Reintegration Program and working with all branches of the Reserve and National Guard.
Dye enjoys serving as a mentor and a collaborator and sharing experiences from military, civilian, and academic life to better understand how leaders best serve.
"The opportunity to be a lifelong learner in such a great university environment is thrilling. To then have the opportunity to share ideas and help others grow and develop their ideas at various levels is very rewarding," she said. "The ProSTAR program gives people the opportunity to learn, grow, and develop on a timeframe that fits with work and family life. For me, it is exciting to meet so many lifelong learners who are involved in so many interesting pursuits."
Along with her work activities, Dye emphasizes that it is important to find balance, and she makes time for favorite activities such as gardening, jogging and spending time with her husband. As she tells her students, "Find what you have a real passion for doing. You will do it very well, and it will be noticed. Sometimes these are small things, but often very small things bring great happiness. Make a difference!"