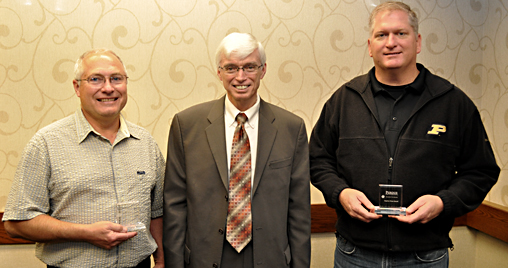 Five College of Technology faculty and staff were recognized by Dean Gary Bertoline Oct. 26 as the most recent recipients of the Good to Great award.
Recipients were:
Bill Cochran, building deputy for Knoy Hall and Michael Golden Labs for his positive attitude and ability to tackle a variety of tasks
Angie Delworth, director of financial affairs for her expertise and dedication to the college
Stephen Elliott, professor of technology leadership & innovation, for his volume of grant proposals and collaborations
Eric Matson, assistant professor of computer and information technology, for his work in creating partnerships with universities and industry in Korea
Edie Schmidt, interim associate dean for research and professor of technology leadership & innovation, for her initiative and creativity in advancing the college's research efforts.
Recipients of the Good to Great Award are involved with endeavors that improve the college's public image, show a commitment to excellence and demonstrate impact.
(Photo, from left: Cochran, Bertoline and Matson.)