Over snowy ground in central Pennsylvania on March 7 and 8, Purdue students and ROTC cadets met a contingent of West Point cadets, band members, and officers for a "staff ride" to retrace the movements of American armies in the Battle of Gettysburg.
The Purdue students are enrolled in History 302, "Technology, Innovation, and the Civil War," taught by Nick Sambaluk, assistant professor of practice in military science and technology. The ROTC cadets are led by Sergeant First Class Leon Huff.
"This was a first-of-a-kind effort," said Sambaluk, who is jointly appointed in the colleges of Technology and Engineering and the U.S. Military Academy's Army Cyber Institute. "It was a unique opportunity to combine perspectives – of West Point cadets whose educations point toward military careers, of ROTC cadets who prepare for military service while studying in a college environment, and of Purdue students learning about how innovations in technology, organization, and tactics impacted a major battle and the war as a whole."
Traditionally the realm of field officers and officer cadets, this staff ride was the first which combined groups of future officers with a group of civilian students from a Purdue military history course.
In a staff ride, participants retrace the terrain of a battle to gain better understanding of warfare, including command and decision-making roles and "fog of war" factors such as confusion and weather. To prepare, students and cadets researched battle reports and other documents and learned to describe and explain the actions of at least one of the battle's commanders.
"The staff ride to Gettysburg was really a great and unique learning experience for me," said Zifan Wan, a senior in the College of Agriculture. "It made the descriptions about that battle so real and a better picture of what was happening back then." Wan led a study of Brigadier General David Birney, who briefly led the Union Army's III Corps during the Day 2 crisis in the Peach Orchard. Wan noted that the experience "triggered my interest to know more about history."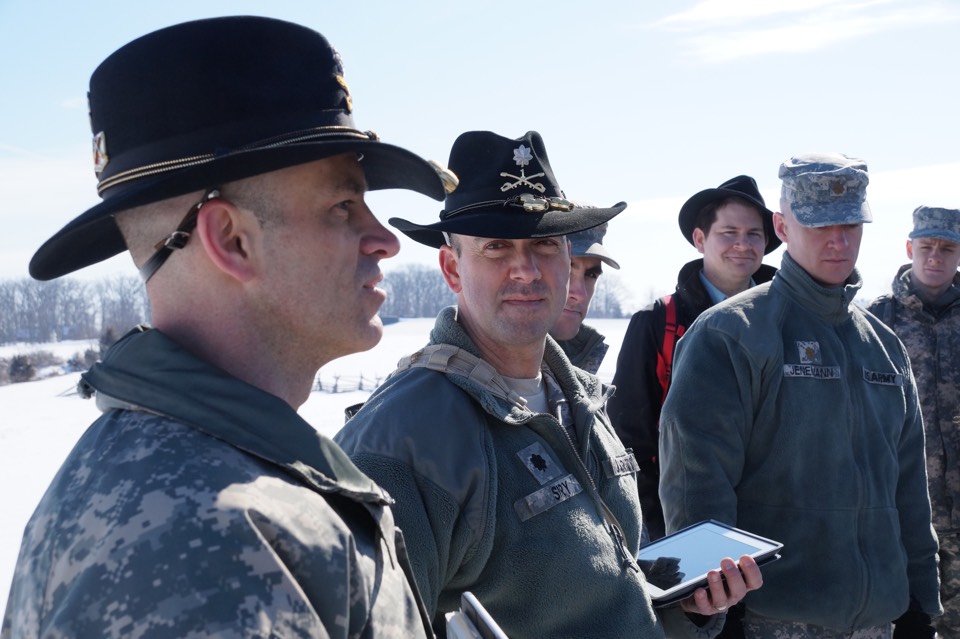 West Point faculty LTC Dave Siry, LTC Jason Musteen, and Major Greg Jenemann helped coordinate the group of 52 staff riders from the two schools. Major John "Rocky" Rhodes demonstrated how skirmish lines frequently preceded larger formations of troops during Civil War battles. SGM Eric Sheffler (drum), MSG James "Butch" Barnard (trumpet), and SSG Jorge Zepeda (fife) explained the roles of regimental bands in the war, including mobilization, morale, discipline, communication, and acts of valor.
Students and cadets learned march cadences and period songs and retraced Gettysburg battle actions including Longstreet's attack into the Devil's Den, the redeployment of Sickles's III Corps, and Pickett's Charge.
The trip to Gettysburg National Military Park was sponsored by Purdue ROTC and by the Burton D. Morgan Center for Entrepreneurship.
Sambaluk will offer an online video teleconference course on 20th century military history in Fall 2015 and is planning a Study Abroad summer course for 2016 which will include a staff ride in Normandy, France.
Additional info: Purdue students participate in ROTC, West Point visit to Getttysburg Battlefield