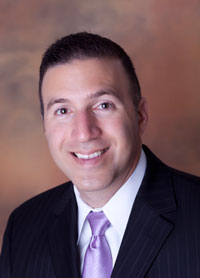 The success of students, faculty and alumni will be showcased during the seventh annual Tech Week hosted by Purdue's College of Technology. Events are planned Feb. 23-March 1, 2013.
Jonathan Antevy, co-founder of e-Builder.net
Following the week's theme, "Hardwired for Success.", Jon Antevy, co-founder of e-Builder.net, will headline the week's activities. He will discuss "Going Online to Prosper Offline: Lessons I Learned Along the Way" during the Dean's Distinguished Lecture Thursday, Feb. 28.
In 1995, Antevy converted his master's thesis into a business plan that would form the company e-Builder.net. Within one year, the firm was named a Pioneer of Online Project Management Systems by Engineering News-Record. The company has paved the way for other innovators in the construction industry to capture more than $1 billion in technology investments. Antevy will share his journey, highlighting key milestones along the way that will provide a foundation for students and alumni who are looking to gain a competitive edge.
Other activities during Tech Week include:
The annual alumni awards, honoring 14 alumni for the professional accomplishments. Five Distinguished Technology Alumni (DTA), four Outstanding Alumni, and five Early Career alumni will be honored during two ceremonies Friday, March 1.
In addition, the DTA recipients will sit on a panel in the afternoon to discuss "Preparing for the Global Workforce." The panel, open to the public, is Friday, March 1, in the Purdue Memorial Union Anniversary Drawing Room at 2:00 p.m.
Current students will be able to meet with representatives from General Motors and Rockwell Automation as part of Corporate Partner Day activities.
Students graduating in May and August 2013 will be honored during the FareWELcome lunch, Feb. 27.
Students in the Association of Electrical Technologists will participate in their first ever regional Rube Goldberg competition Feb. 23.
A full description of Tech Week events can be found on the 2013 Tech Week Web site. You can also follow along throughout the week on Twitter by following #techweek2013.