Even though she is an Indiana native, Allison Hoffman didn't know much about the 500 Festival or the race that inspired the month of events: the Indianapolis 500.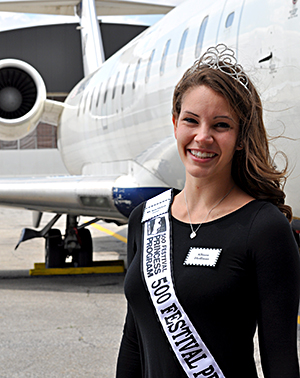 After being named a 500 Festival Princess in February, however, Hoffman has learned a ton -- about the festival, the Indianapolis Motor Speedway, the state and herself. She has been a relentless ambassador for the 500 Festival while balancing a full-time course load at Purdue and a part-time job. In fact, the skills she is learning at outreach events have influenced how she approaches her job as a flight instructor at Purdue.
"It's been such a learning curve for me. It's definitely taught me patience and helped me strategize how to apply things in new ways," Hoffman said. "The way that I learned a concept may not be how others learn it. I'm learning how to understand new ideas and trying to find what makes it click for my flight students."
Hoffman has made it a personal challenge to make sure the groups she meets with are engaged. She wants them to be excited about the 500 Festival, and that takes more than "feeding them information," she said.
In the months leading up to May, 500 Festival Princesses are involved with statewide outreach programs, including visits to hospitals, schools and various youth programs. The outreach schedule for all 33 princesses is pretty hectic. Hoffman could easily attend five events a day, if her schedule allowed.
"It's a huge balancing game," she said. "It's managing my time the best I can. I tell myself to take it week by week."
In May, the princesses will attend and volunteer at all official 500 Festival events, including the Mini-Marathon, the parade, Snakepit Ball, Breakfast at the Brickyard, Kids' Day and Memorial Service.
Hoffman will also graduate from Purdue with her bachelor's degree in professional flight in May. Her experiences with the 500 Festival Princess Program will be beneficial as she moves into the workforce, she says. The program boasts a professional development component, which includes a mentor (also called a director) for each participant. Hoffman's director is Leslie Carter-Prall, Indiana Area President for Regions Financial Corporation.
The experiences are also helpful in more subtle ways.
"Every applicant can have the flight hours," Hoffman says, "but whenever you are sitting next to someone in the cockpit, what are you going to talk with them about? You have to be able to talk and work together. They are looking for someone who can volunteer and is excited with being hands-on in the community."
On campus, Hoffman has been active with the Aviation Technology Student Council, Zeta Tau Alpha sorority, the Old Masters Program, Purdue Professional Pilots, and as a College Success Advocate.
Hoffman is one of eight Purdue students selected as 2016 500 Festival Princesses. The 33 women represent 13 Indiana colleges and universities and 21 cities and towns across the state.
"I am honored to be selected and for the way that they see my passion for my career and my involvement. That is why it is valuable to me," Hoffman said. "Being part of the program honors everything you are as a person: the organizations, high GPA, volunteering, ambition, drive and determination."
Meet all 33 princesses (one for every car in the Indianapolis 500).