Entrepreneurs, innovators, educators and more participated in the inaugural Purdue Polytechnic Institute's Innovation Summit last spring to gather information and ideas for building an ideal innovation environment in the Purdue Polytechnic.
With two days of insights collected and compiled, the summit's organizers were charged with using those insights to implement an innovation program within the college.
"The goal was to listen to summit participants' feedback on entrepreneurship and innovation then pursue it within the context of a learn-by-doing program that attracts the world's best innovators. Each year, we can continue to get feedback and help plan, deliver and fine tune the program," said Lonnie Bentley, who coordinated the 2016 Innovation Summit with Matt McKillip. Bentley is a professor of computer and information technology and Matt McKillip is director of research and innovation for Purdue Polytechnic Statewide. Both are also entrepreneurs and mentors.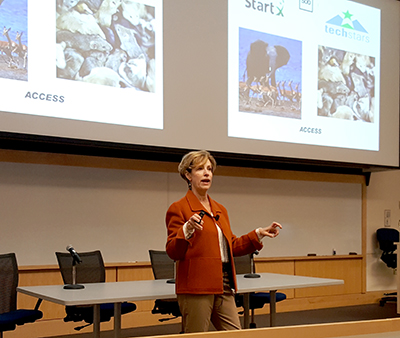 Based on the many ideas participants developed, McKillip and Bentley have been busy formulating a plan that can be shared at the second Innovation Summit, scheduled for April 11-12, 2017, on campus.
"This is bigger than just creating startups," McKillip said. "It's about changing the mindsets of students and faculty. It's about teaching and providing real experiences in a way that is more inspiring for entrepreneurial-minded students." That mindset includes understanding the larger picture of customer needs, product design, demand, costs, and other business fundamentals that sometimes get lost when entrepreneurs focus only on their unique idea.
Gary Schoeniger, founder and CEO of the Entrepreneurial Learning Initiative and one of the speakers at the 2016 summit, takes the definition of entrepreneurial mindset even further.
"An entrepreneurial mindset begins with this very subtle, deeply held, mostly unconscious assumption that it's my responsibility to figure out how to make myself useful to my fellow humans, and by doing so I will empower myself," he said. "We have to shift the way we think about entrepreneurship. We have to recognize that not every student wants to start a business but pretty much anybody who has a pulse wants to be engaged in work that matters."
Mentorship was one subject discussed at length during the summit. Participants and speakers alike agreed, in addition to instructors with entrepreneurial backgrounds, students must have access to entrepreneurs as mentors. Several summit participants have already volunteered to serve as mentors once the new program begins.
Another keynote speaker, Lesa Mitchell, Founder of Network for Scale and former vice president of innovation at the Kauffman Foundation, offered advice from a successful entrepreneur program at MIT.
"You have to offer some kind of incentive for [mentors] to be engaged," she said. "It's the mentors sitting around talking about the companies that they are mentoring that builds the relationships and that stickiness." When mentors network and discuss the projects they are mentoring, valuable connections can be made, which increase student success.
Gary Bertoline, dean of Purdue Polytechnic, will update stakeholders on how their ideas are being implemented at the 2017 Innovation Summit. He envisions that it will offer hands-on learning experiences, mentoring, curriculum enhancements, spaces for collaboration and making, as well as customized approaches based on each student's goals.
Student innovators will be front and center at the next summit, and the dean hopes to reach out to high school-aged entrepreneurs who want to continue their innovative activities while pursuing a Purdue degree.
If you are interested in participating in the summit, email mmckillip@purdue.edu.