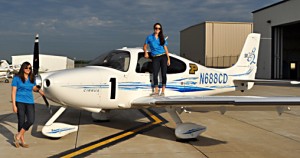 UPDATE for results: The team placed 20th overall and 8th in the collegiate team category. They also received an award for fourth fastest place during the fifth leg of the race.
------
Purdue will field one of 14 collegiate teams during the 2013 Air Race Classic, which takes place June 18-21. The team will attempt to complete the "perfect cross-country" flight during the four-day event. Amanda Keck is this year's pilot, Rachel Borsa is the co-pilot, and Haley Myers serves as ground crew coordinator.
The ground crew consists of Hannah Bahney, Natalie Butler, Andy Stuff, Rachel Lamb, and Jim Campbell.
Each year's route is different. The 2013 race starts in Pasco, Wash., and ends in Fayetteville, Ark., with eight stops in between. Forty-seven teams will vie for several awards, including some specifically for collegiate teams. Purdue has competed in the race since 1994.
Advisors for the group are Pascal Nguyen and Jamie Poppe.
The Race
Each Air Race Classic team flies a stock aircraft with no modifications. The teams are then assigned a handicap based on their airplane's predetermined average cruise speed.
Teams in the Air Race Classic win based on the efficiency and accuracy they exhibit in every aspect of the race. A team is rated based on its performance compared to its airplane's handicap.
Because of the nature of the scoring, it is impossible to gauge a team's performance in relation to other teams until the competition is over. It is even possible that the team that completes the course last could actually win based on the expected performance of its plane.
The Air Race Classic is the longest-running all-female airplane race in the world. Its roots date back more than 70 years when the Women's Air Derby brought pilots such as Amelia Earhart, Bobbi Trout and Ruth Elder to an air race from Santa Monica, Calif., to Cleveland.