The Purdue Kokomo GigaWatts team competed in the fourth annual International eVGrandPrix at the Indianapolis Motor Speedway (IMS) May 15. Twenty-three electric go-karts entered from as far away as Oklahoma, Georgia, Canada and China.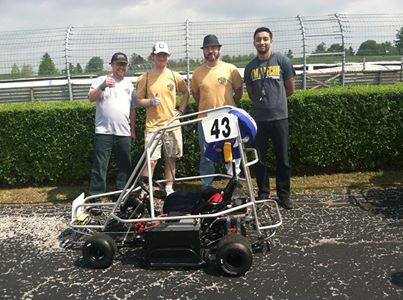 The evGrandPrix is more than an electric go-kart race. The purpose of the event is to allow students to use their creativity and imagination to design and implement an electric-powered vehicle. In doing so, they learn about mechanical and electrical systems, energy storage, system efficiency and energy use strategies. The road type course at IMS is delimited using giant plastic blocks (similar to LEGOs®). The race is 50 laps or just over 11 miles.
The GigaWatts team at IMS included second year driver, Paul Kennelly, and crew members, Randall Homme and Alberico Servin. Kennelly qualified in eighth position which entitled the GigaWatts #43 kart to race the A-main against the top 10 qualifying karts. The race began with several caution periods due to incidents among other competitors. Kennelly avoided those incidents (including one where he narrowly missed a flying barricade) and quickly moved to third place. Around lap 30, the second place kart had to pit for a mechanical issue allowing the #43 kart to move into second place.
Unfortunately, on lap 40, the kart began shutting down because of low battery voltage (a failsafe system for these karts). Kennelly pitted for a battery change, where it was determined that the motor powering the kart was close to overheating. The #43 kart was retired for the day, but the team still placed a respectable sixth.
The #43 kart was built as part of a course titled Electric Vehicles (EV) and with members of the Purdue Kokomo Electric Vehicle Club. In the EV course, two teams of four students each worked on preparing the kart. One team implemented the electric power train for the kart. The other team developed wireless telemetry for monitoring systems on the kart such as energy usage and battery voltage. This information was broadcasted to a dashboard type display laptop that could be monitored in the pits. The eVGrandPrix was the first opportunity for both the kart and wireless system to be tested in a race environment.