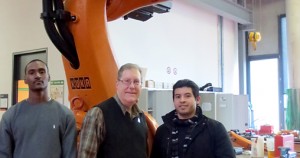 Hank Kraebber, professor of mechanical engineering technology, was honored by the Indiana Louis Stokes Alliance for Minority Participation (LSAMP) during its statewide conference in April for his service as a mentor to students and for facilitating LSAMP workshops.
He was nominated for the honor by his mentees in the program. Kraebber has served as mentor to 10 LSAMP students, including one at Ivy Tech Community College. In addition, he has provided guidance to eight other minority students.
"Faculty mentors play a crucial role in our students' success, both academically and personally," said Porsche Townsend, LSAMP Indiana Project Manager. "Dr. Kraebber's mentees have participated in international research experiences, presented research at local and national research symposiums, and published in research journals."
Shirl Donaldson, post-doctoral fellow in the College of Technology, has seen Kraebber's effect from many perspectives. As a graduate student in the 1990s, she took classes from him. While she worked in the manufacturing industry, she served on two college Industrial Advisory Boards and worked with Kraebber to coordinate student visits to her company. Most recently, as a Ph.D. student, she worked alongside Kraebber as a mentor and collaborator.
"His greatest influence is being able to explain to students what's actually going on in academia," Donaldson said. "He shows the connectivity of what's in the course, in the book and in the real world. He shows how to take your opportunities for experience and make them more valuable for the future."
She said Kraebber's commitment to mentoring and diversity issues can help set an example for others across campus.
"You have to reach out and be active. We have several diversity issues on campus, and people don't always know what to do," she said. "You have to be willing to reach out and explore on campus. He taught me how to do that."
(Photo: Isaiah Butler, Henry Kraebber and Hector Mena tour the Kuka Robotics plant in Germany.)