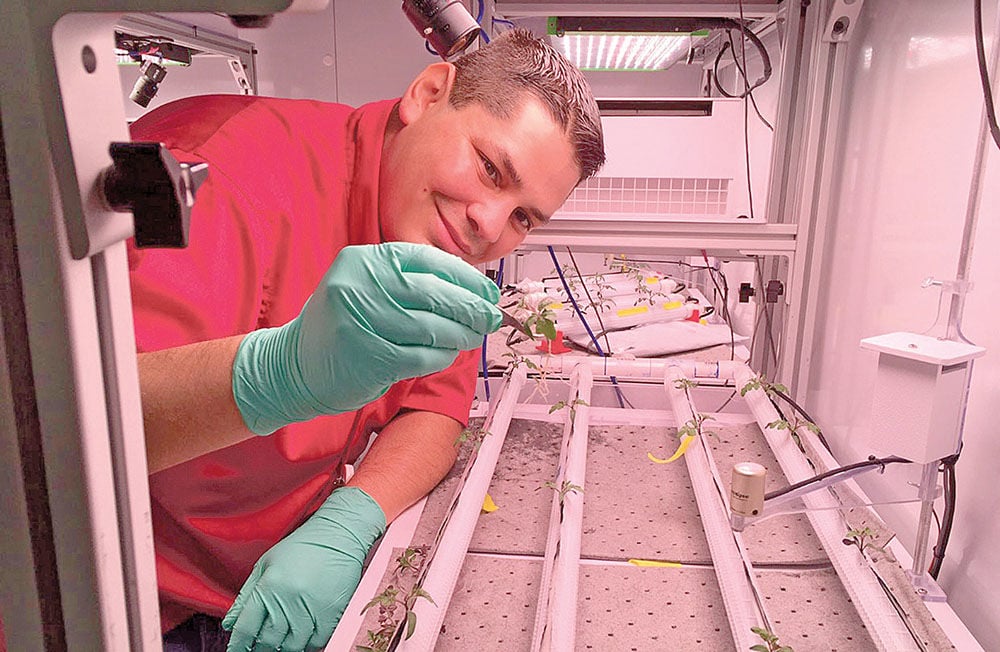 A graduate student who gained experience growing plants for a Purdue Polytechnic research project is now helping NASA develop microgravity food production technology to sustain astronauts during long missions to Mars.
Jacob Torres graduated from Purdue in May 2019 with a master's degree in mechanical engineering technology. During his studies, he worked on the Biowall, an eco-friendly air filtration system that can be used in residential buildings to improve air quality. That experience proved beneficial when he applied for an internship at Kennedy Space Center in Merritt Island, Florida.
"I did the application and never thought I'd hear anything back from them, straight up," said Torres. "On the application, there just happened to be one line that said, 'plant growth for food production in microgravity.' I thought that was pretty cool and in my research at Purdue, I made a biowall, and it uses plants to filter indoor air."
After that 10-week internship, NASA (the National Aeronautics and Space Administration) invited Torres to continue his work for an additional four months. In December 2018, his position as a technical and horticultural scientist became permanent.
Torres' path to becoming a research scientist at NASA has been anything but traditional. He moved from New Mexico to Las Vegas immediately after graduating from high school, found a job at a restaurant and worked his way into a management position. A chance encounter with actors Bill Murray and Billy Crystal led to several years as manager of three of Murray's restaurants in South Carolina and Florida.
"It was such a rough ride," said Torres. "I told myself I couldn't run restaurants for the rest of my life. I was like, 'Is this all I have to do, is this as far as I could go?' No way."
Read the full Rio Grande Sun article.
Additional information: