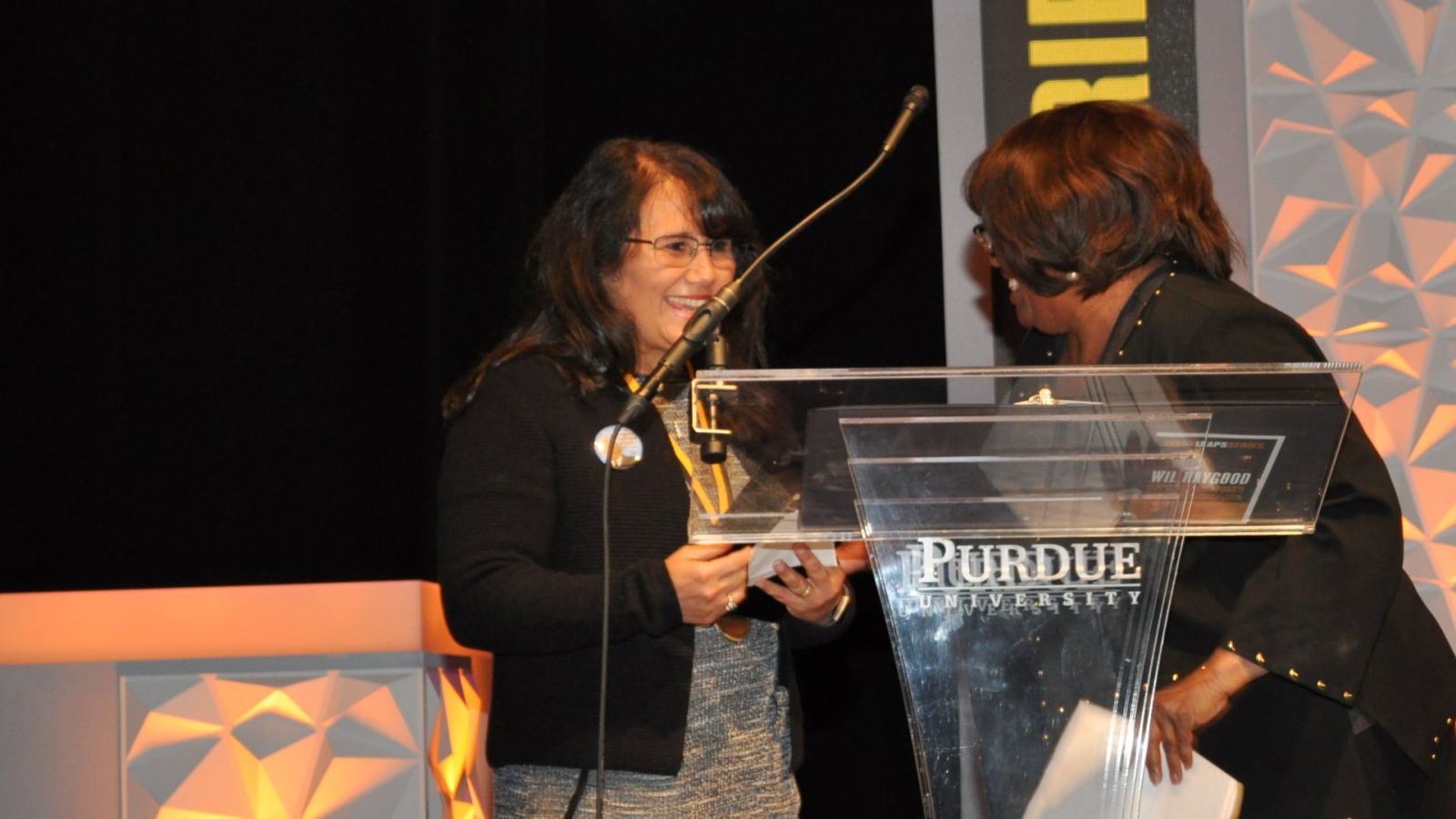 Purdue Polytechnic's Antonia "Toni" Munguia, director of recruiting, retention and diversity, was named a Purdue University Martin Luther King Jr. Dreamer Award recipient for 2019. The award is presented annually to individuals or organizations within the Purdue community whose contributions embody Dr. King's vision of service to others and furthers the University's commitment to diversity and inclusion.
Carolyn Johnson, director of Purdue's Diversity Resource Office, presented the awards on January 22.
"One thing the award's recipients throughout the years have in common is to take a vision and move it to action," said Johnson. "In this time of increased polarization, we often talk about the political divide and things that create discord. Each of our recipients has a vision that pierces through that fog of confusion, helping faculty, staff and students find a level of clarity, possibility and hope."
Johnson praised Munguia for using a family-like approach to her work.
"She helps people feel warm and that this is a place of possibility," Johnson said. "That combination of competency and compassion, and her ability to mobilize and connect, are things that make Toni very special. We are so pleased that Toni is a 2019 Dreamer Award recipient."
"It's a great honor to be selected for this award," said Munguia. "Martin Luther King was for equality and inclusion for all. He inspired us to work as brothers and sisters, to do our best and to love and respect one another. One of my favorite quotes from Dr. King is, 'Whatever your life's work is, do it well. A man should do his job so well that the living, the dead and the unborn could do it no better.' This inspires what I believe for myself and for my students. I want to help and assist them to do their work well and to work hard and get smart."
Munguia credited her faith and thanked her family and colleagues. "They let me be me, and I appreciate that," she said. To her students, she added, "I love you and want you to fulfill your dreams. Thank you for letting me be part of your life."
Roy Hamilton, assistant vice chancellor for educational opportunity programs at Purdue Northwest, also received a 2019 Dreamer Award.
Additional information: