Qingyou Han, professor of mechanical engineering technology, has devised a way to add titanium powder to aluminum to produce stronger and lighter composite materials for manufacturing. Han received a patent for his work and was honored during Purdue's annual Inventors Recognition Reception last fall. The patent, awarded Dec. 24, 2013, is officially for the "Method of Producing Particulate-Reinforced Composites and Composites Produced Thereby."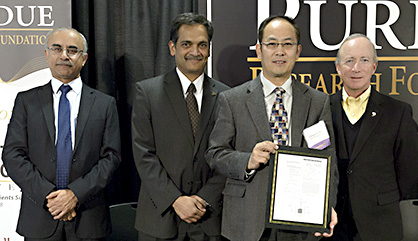 Han's process starts with molten aluminum. He adds low-cost titanium powders and then applies a high-intensity acoustic vibration to the mixture. The vibration enhances a chemical reaction that fragments the titanium particles into much smaller and stronger Al3Ti particles. These new particles are only 1-5 microns wide. One micron is equal to one millionth of a meter.
The process of adding a complementary material to a metal creates a metal matrix composite.
"These particles are so small. Aluminum alloys that are reinforced using these small particles should have higher toughness and ductility than conventional aluminum matrix composites reinforced with silicon carbide particulate," Han said. "Aluminum matrix composites that contain smaller particles also should have more improved machinability than conventional aluminum matrix composites." Because of these properties, the process should be attractive to automotive or aerospace manufacturers who are looking for lighter materials.
Han's ultrasonic vibration method can be used with non-metals as well, such as ceramics or polymers.
The patented process took about three years to fine-tune, and it has roots in another project Han has been working on since 2007. The HyperCAST Program included research on similar composite material development. Han was assisted in his research by graduate student Zhiwei Liu.
Han is director of the Purdue Center for Materials Processing Research.