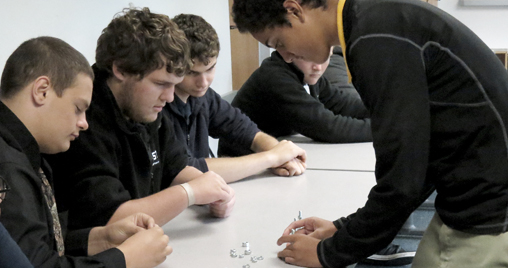 As the nation's educational and political leaders call for an increase in the number of college graduates in STEM academic fields (science, technology, engineering and mathematics), individual institutions are answering the call with more focused efforts in recruitment events.
For the fourth year, for example, the Purdue College of Technology at South Bend invited Project Lead the Way students from area high schools to its home on the IUSB campus. This year's theme was aerospace, so educators and local aerospace leaders helped paint a picture of specific knowledge needed for careers in the field.
Of the five sessions offered during the conference, three focused on projects that would be typical of those found in the aerospace industry.
In the electrical engineering technology project, students developed an interface to allow computer control of an electric motor used to move a flight control surface. As they explored mechanical engineering technology, they investigated the management of force and torque necessary to move the same flight control surface. Finally, they worked through an industrial technology challenge associated with creating an efficient, high-quality manufacturing process.
The day's activities were rounded out by sessions on careers and college life.
"The sessions were planned to engage these students in fun and interesting activities that could spur interest in STEM, and especially technology, majors," said Gene Harding, conference coordinator and associate professor of electrical engineering technology. "We want to motivate them and help them understand the links between math and science and actual careers."
More than 100 students attended the Project Lead the Way conference. They came from Adams, Elkhart Central, Elkhart Memorial, John Glenn, Northridge, Northwood, Penn, Riley, St. Joseph, and Triton. Several homeschooled students also attended.
"I really liked it. It opened my eyes to different styles of careers that I have an interest in," said Nathan Chupp, a freshman at Memorial High School.
Other attendees picked out their favorite sessions, citing hands-on activities and college information as the most helpful and engaging.
"I think the program is a great way to teach students how they will apply the skills they are learning in high school," said Sage Bladow, a senior at John Glenn High School.
Representatives from Honeywell Aerospace assisted with the industry presentation during the day as well. Their presence further illustrated the practicality of a STEM education and its application after college.