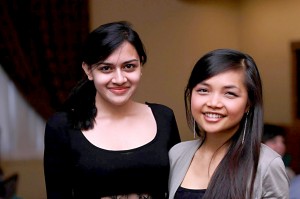 Five sustainability ideas were honored this week by the College of Technology's Project [Re]Green initiative.
From 123 submissions, a panel of judges chose winners in four categories and one honorable mention. The winning ideas, and several other submissions, will be implemented as part of a new class during Fall 2013: TECH 19900 (Applied Sustainability Principles).
Project [Re]Green is coordinated by founders Holly Chan, a graduate student in technology leadership & innovation, and Kirti Chintalapudi, a sophomore majoring in industrial technology/industrial distribution.
Award winners included:
Easiest Idea to Implement: Be as green as you can be, submitted by Angie Schutz, administrative assistant in the Department of Computer Graphics Technology. This idea reminds purchasers to look for more sustainable options when ordering supplies.
Most Self-Sustaining Idea: Powering down the computer labs when not in use, submitted by a TECH12000 student group composed of Matt Shanks, Westley Vohar, Minglun Li, Chad Cole, and Alec Saare.
Most Cost-Effective Idea: Motion sensor lights for the entire building, submitted by student Trent Nagel.
Most Innovative Idea: Separating compostable paper towels from the trash stream in restrooms, submitted by Sundeep Rao, senior site manager for ECN.
Most Innovative Idea, honorable mention: Carbon neutral airport, submitted by Mary Johnson, associate professor of aviation technology.
Chan said Project [Re]Green will continue to accept suggestions for ways to improve the College of Technology's sustainability practices.