Tom Murray, a 1982 professional flight alumnus, was the first officer on all four legs of the chartered flight for Pope Francis's tour of the United States in early October.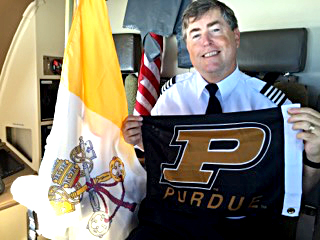 The assignment is the latest for Murray during a long career in the Air Force and at American Airlines. A decorated veteran of Desert Storm, he was a captain in the U.S. Air Force, where he was a C-141 Aircraft Commander. At American Airlines, he has been a captain on Boeing 727, 767, and 777 as well as the Airbus 300. He has also served as check airman and international standards coordinator on the Boeing 777 and Airbus 300.
Murray says his Purdue experience was a great start to his career.
"The staff and professors are excellent," he said. "The simulators, flight and mechanic labs were perfect for a military and airline career. Having Purdue airport and all those facilities right there is an exceptional resource."
Murray and his wife, Donna, have three children.
--
Flying Pope Francis – Purdue alum honored to fly 'Shepherd One'
An article by The Monitor, newspaper of the Diocese of Trenton, NJ, used with permission.
By EmmaLee Italia | Correspondent
Captain Thomas Murray, a pilot for American Airlines, knew from a very early age that he wanted to be a pilot – proving his determination by flying in gliders at age 12 and single-engine planes by 16. He could have never anticipated, however, being asked decades later to be second-in-command aboard a plane carrying the Holy Father.
Like his predecessors, Pope Francis's transportation from state to state during his first visit to the United States would be aboard a flight chartered by the United States Conference of Catholic Bishops from American Airlines.
Flown by American Airlines personnel, including Murray, the Boeing 777-200 aircraft traveled under the Federal Administration Aviation-approved call sign "Shepherd One." In preparation for the flights carrying the Pope, the papal seal was affixed to the side of the aircraft, and papal flags flew on either side of the plane's front window upon landing.
After picking up the plane at Dallas/Ft. Worth International Airport, the pilots brought the aircraft to Joint Base Andrews, just outside of Washington, D.C.
The Pope boarded the aircraft Sept. 24 for a 4 p.m. flight to New York, en route to Vespers at St. Patrick's Cathedral. Murray also piloted Pope Francis's subsequent flight to Philadelphia Sept. 26 for the conclusion of the World Meeting of Families, as well as his return flight to Rome on Sept. 27.
Murray, who goes by Tom, was approached by a member of management at American Airlines to be on the flight crew for Shepherd One – an assignment he took very seriously.
"This was a very special trip," Murray said. "We received extraordinary cooperation from air traffic control and the Secret Service. Everyone went well out of their way to help us."
"Tom's primary focus wasn't the glitz and glamour [of the assignment]," said his wife, Donna. "It was to keep the Holy Father safe."
Donna explained that Tom was the pilot on board with the most flight hours on that model aircraft – 4,000 to 5,000 hours. That and his status as a flight instructor and background in airplane mechanics gave him solid credentials.
"I think it helps to be highly qualified on the Boeing 777 – and to be Catholic," Capt. Murray admitted.
Murray is a check airman – a pilot who "helps other pilots transition to new aircraft … by giving them experience in the new aircraft after extensive training at our training center in Dallas," he said.
Murray earned his first pilot's licenses while growing up on Long Island, N.Y. He applied for flight school at Purdue University, but had to wait for a spot to open, according to Donna. In the meantime, he received instruction in airplane mechanics.
He eventually graduated from Purdue in 1982 with a degree in aviation technology, and instructed new flying students for the school. Murray also joined the Air Force Reserve in 1982 and served there until 1992. After joining American Airlines in 1984, he became a captain at the age of 30, one of the youngest, he says, in the company's history. Murray is also a Desert Storm veteran.
St. Paul's pastor, Msgr. Joseph N. Rosie, alerted St. Paul School students to the Pope's flight path of during the opening of the school year Mass on Sept. 24.
"I know the pilot," he said, "So if you look up at the sky around 4:30, I asked him if he could fly the Pope over our school!" Murray confirmed that the flight did indeed take the Holy Father very near Mercer County on the New York and Philadelphia routes.
Murray lives a life of service even outside his piloting work, serving on the school board of St. Paul School for 12 years in various capacities – on the facilities and planning committees, as chair of the finance committee and 2003-2006 school board chairman. He is currently involved in strategic planning for Notre Dame High School, Lawrenceville, from which his three children graduated, and serves as a troop leader for Eagle Scout Troop 28 in Lawrenceville.
The flight crew members were blessed to receive an audience with the Holy Father on the flight back to Rome. Murray said he was struck by Pope Francis' humility.
"He (was) very much the same man you see on T.V.," he observed. "It was a tremendous experience."
To commemorate the historic flights, "I brought some flags to fly on Shepherd One with me," Murray said. He intends to have the flags inscribed with the trip details and donated back to the institutions they represent.
Wanting to give Pope Francis something memorable from his flights, Murray designed a flight patch to give to the Pope and another for the crew, using the Love Is Our Mission logo from the World Meeting of Families.
The flight name, "Shepherd One" and the names of the pilots were included on Pope Francis's patch, and his papal motto, "Miserando Atque Eligendo" ("Humble yet chosen"), appeared across the bottom.
"It means 'lowly but chosen,'" said Murray. "I explained to (Pope Francis) that we feel the same way about being chosen for the flight – humble."