By: Bob Scott
bscott@jconline.com
Journal and Courier Newspaper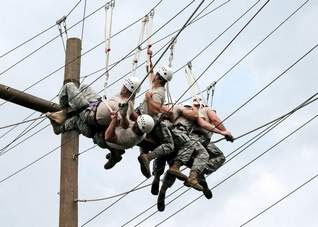 It's called "Zero Week."
Purdue ROTC cadets report early to go through orientation and do training exercises this week, including the high ropes course on campus. On Friday, the battalion will be activated.
About 120 Army ROTC cadets have reported this week, said Maj. R. Travis Clark, the ROTC enrollment and scholarship adviser at Purdue University.
The senior cadets shoulder the bulk of leadership responsibilities during the school year, he said.
"The senior cadets are responsible for training freshmen, sophomores and juniors," Clark said. "We are training them to be real world leaders".
"We focus on facilitating what they are doing. They are getting into the mode of being a lieutenant."
He said the seniors are involved in all events and projects.
"They do all the work," Clark said.
The high rope course is used not only by ROTC cadets, but also by Purdue employees.
Clark said the seniors think they know the course, until they get on it. He said it's a new challenge each year.
"The idea is to bring our seniors together, to build unity," he said. "They have to work together as a team to accomplish certain goals".
"The rope course looks easy, but it is difficult. It makes you focus on planning, teamwork, communication and reaction."
Senior Grant Wanamaker is a "completion cadet" who will be commissioned a second lieutenant at the end of the first semester. He is from Crystal Lake, Ill., in the Chicago area.
"The high rope course is a lot of fun," he said. "Once you get on, it is OK".
"You have a climbing harness and steel cables, but there is a moment of panic because you will fall. You are even blindfolded at one point."
He said the rope exercise also will be done by the freshmen, sophomores and juniors this week.
"The battalion activation ceremony is special," he said. "Everybody is in uniform. We'll have a cookout afterwards".
Wanamaker is a construction management major who will go into engineering with the Army. He received a four-year scholarship and will serve four years on active duty.