On October 9, Purdue President Mitchell E. Daniels, Jr., announced Ever True: The Campaign for Purdue University.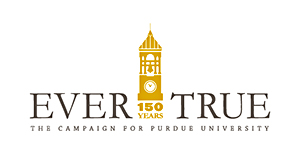 "As we approach the 150th anniversary of Purdue's founding, we are embarking on a campaign—Ever True—that will elevate our University's reputation for research excellence and intellectual achievement in a new era of accountability in higher education," said Daniels. "We invite the support of the entire Purdue family in this historic undertaking."
With a goal of $2.019 billion raised by 2019, Ever True is the largest fundraising effort in Purdue history. The campaign spans July 1, 2012-June 30, 2019, concluding in the University's 150th anniversary year.
This campaign will propel the Purdue Moves initiatives—Affordability & Accessibility, STEM Leadership, World-Changing Research, and Transformative Education—and reinforce the University's overarching commitment to keep a rigorous college education within students' financial reach. More broadly, it will unite the Purdue community around three key priorities:
PLACE STUDENTS FIRST – Students are the heart of the University, and fostering their talent is our highest calling. Our students will grow as leaders and global citizens who enjoy a lifelong relationship with Purdue that prepares them for the future's broad, ever-changing challenges and opportunities.
BUILD ON OUR STRENGTHS – Intersecting with the arts, humanities, social sciences, and business disciplines, we will increase investment in areas that have the greatest potential for impact and explore innovative ways to leverage our historic strengths.
CHAMPION RESEARCH AND INNOVATION – Faculty research requires a nimble, state-of-the-art ecosystem that attracts and celebrates creative minds—a fusion of people, resources, facilities, and environment that spurs collaboration across disciplines, expands the boundaries of knowledge, and equips faculty for success.
Within the larger Purdue undertaking, the Purdue Polytechnic campaign will use the Ever True to fuel its ongoing transformation. Gifts to the campaign will impact the Polytechnic's learning environment, curriculum, and culture, by supporting:
An increase in the student body by 2,000 undergraduates to reach a total enrollment of 7,000.
Integration of demand-driven innovation and entrepreneurship concepts.
Project-based learning, competency-based degree programs that align students' skills with specific industry standards and employer needs, required internships that offer design and research field experience, and industry-sponsored senior design projects for all students.
The creation of new programs to prepare students for emerging careers such as advanced manufacturing, healthcare technology, cyber security, and unmanned aerial systems.
The theme of the campaign, Ever True, springs from the lyrics of "Hail Purdue!" and speaks to the loyalty and commitment our Boilermaker family has long demonstrated.
To learn more, visit the Ever True website or connect with #PurdueEverTrue on social media.