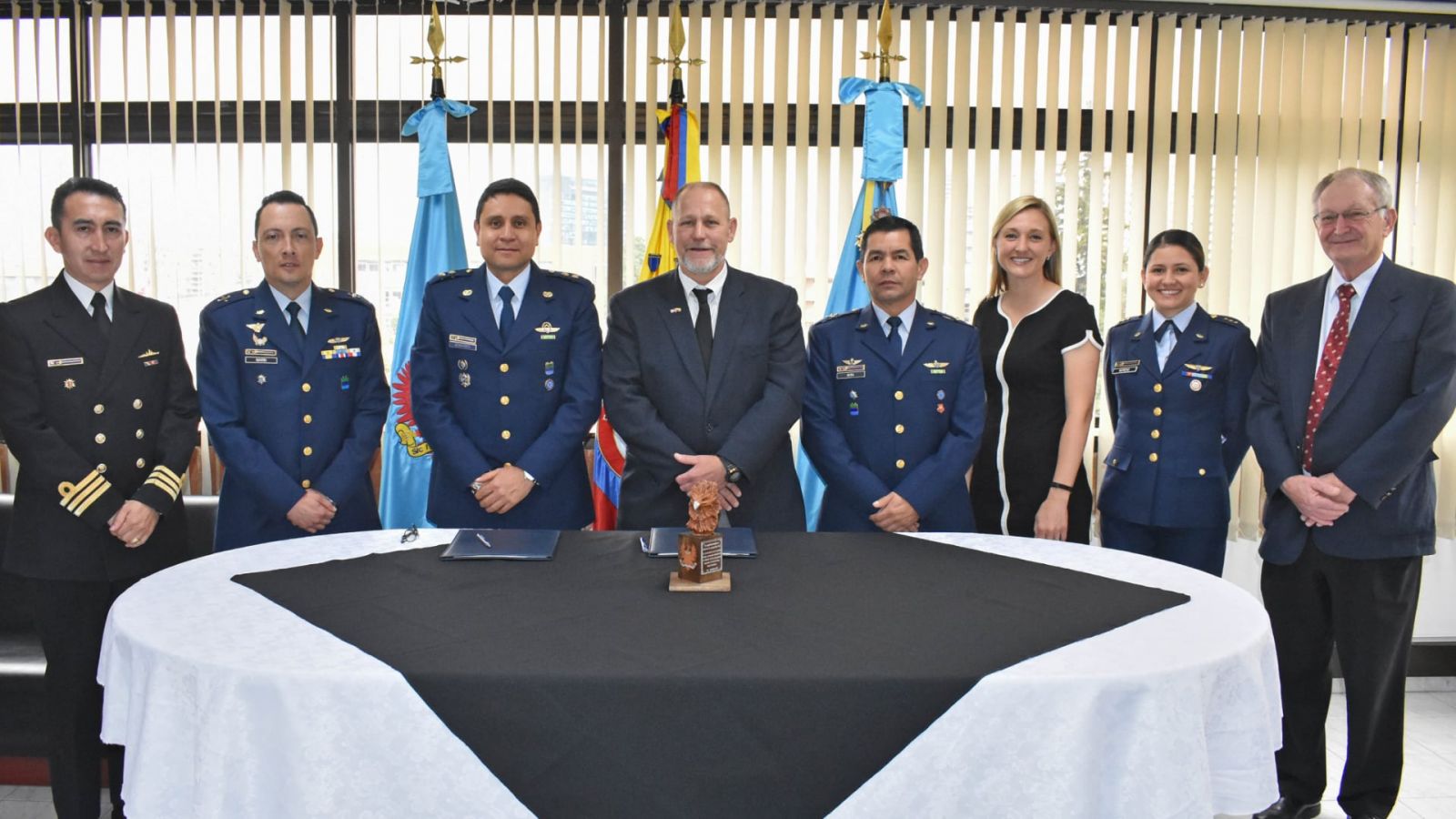 WEST LAFAYETTE, IND. – Faculty and staff from the Purdue Polytechnic Institute entered into a partnership on behalf of Purdue University with the Colombian Air Force (EPFAC), spearheaded by members of its Graduate School, as part of Purdue's globalization strategy. The agreement seeks to promote scientific, instructional and cultural cooperation between the two academic institutions.
Robert F. Cox, Purdue Polytechnic's senior associate dean for globalization, and Elizabeth Barajas, global programs coordinator, joined Brigadier General Eliot Gerardo Benavides González, chief of aeronautical education of the Colombian Air Force, and Colonel Javier Neira Peraza, director of the Graduate School of the Colombian Air Force, at the signing ceremony.
"This agreement strengthens Purdue's positioning as a leader in global academic cooperation and enhances the reputations of both schools' aviation, aeronautics, security and defense programs," said Cox.
"Gen. Benavides and Col. Neira have been great partners since day one, nearly three years ago," said Barajas. "Everyone is excited about the future."
About Purdue Polytechnic Institute

The Purdue Polytechnic Institute is one of 10 academic colleges at Purdue University, offering undergraduate and graduate degrees in a range of disciplines: aviation, computing, construction management, engineering technology, technology leadership and technology education. In addition to Purdue University's main campus in West Lafayette, Indiana, Purdue Polytechnic offers select degree programs in nine Indiana communities.
###
Media Contact:
Melissa Templeton
Director of Marketing and Communications
Purdue Polytechnic Institute
templetm@purdue.edu | (765) 496-0094