A team of Purdue University students and their professor placed first at a recent international standards simulation competition. The competition tested participants' strategy and negotiation skills. It was hosted by the American National Standards Institute (ANSI) and the National Institute of Standards and Technology (NIST).
Teams were asked to to develop a new, fictional globally relevant voluntary standard related to industrial communication systems. This process, in the real standards world, typically takes several months and meetings.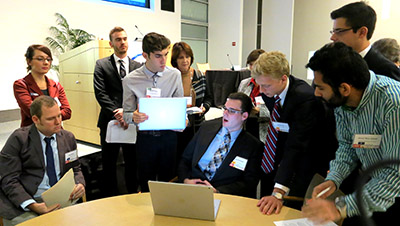 The Purdue team (pictured above) consisted of Torrey Hutchison, Drew Radcliff, Ben Osborne, Joe Zweng, Jeff Chudik and Stephen Elliott, associate professor of technology leadership and innovation. First prize was an HP tablet for each team member, provided by ANSI and Comport Technology Solutions.
Read the full announcement from ANSI on their website.