Lin Qian's doctoral dissertation will focus on enterprise resource planning (ERP) and its ability to help create efficiency in a non-profit organization. She was able to see ERP in action on a global scale during her four-month internship at the United Nations Secretariat in New York City this summer.
One of her primary projects was to establish databases to manage data regarding program performance, which in turn would enhance program efficiency throughout the United Nations. Her work was part of the Secretariat's biennium report to the General Assembly during its September 2016 meeting.
Qian says the new system allows users from a variety of offices to input information to an existing database. Previous systems required the creation of an all-new database each time a report was needed.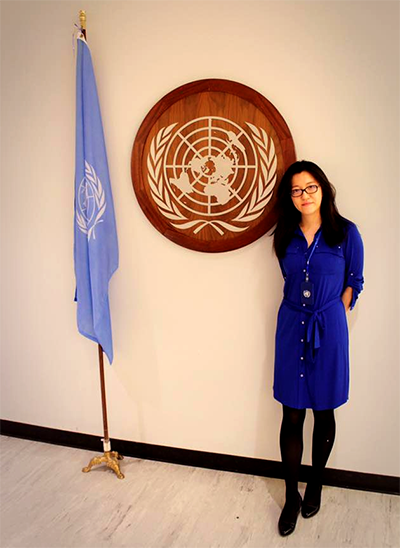 She was excited to be able to use her academic background to help serve the United Nations.
"I was always dreaming about working for the United Nations," says Qian, who grew up and earned her bachelor's degree in Beijing, China. "I like what I did during the summer, and I really want to work there after I graduate."
With her background in technology leadership, Qian didn't expect to have much interaction with the political side of the United Nations.
"Before I went there, I might not be a big fan of politics or sustainable development," she says. "When you are doing the internship and are put in the environment, everyone makes you feel like it is pretty interesting. When you are seeing the people around, it was like, 'This is the world I am in; maybe I can change something and get involved.' It's really exciting," she says.
That larger worldview was complemented by the global community of interns she met during her stay in New York. She learned about their home countries, including ones she had never heard of, and they explored the city together as learned more about their respective cultures.
In addition to her ERP work, Qian also helped created case studies, surveys and presentations for evaluation training.
She plans to complete the requirements for her Ph.D. in Technology in time for May 2017 Commencement. In addition to the United Nations, she is looking at career options in academia or as an industry consultant.