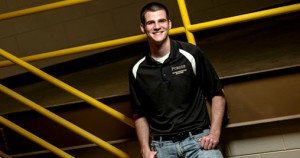 Samuel Rymer, a junior in building construction management, is being featured as one of Five Students who are Home Makers during June 2013.
From single-family homes to residence halls, Purdue students are designing and building spaces for living and working with an eye toward sustainability. Driven, committed to self-improvement and passionate about bettering the lives around him, Rymer plans to lend his skills and quest for excellence to the construction industry.
Read the full story about Rymer on Purdue's Five Students Who site.