Six students from Purdue College of Technology, South Bend and their advisor headed to Houston, Texas, in November for a day of networking, learning and observing at the Rockwell Automation Fair. The annual event gives participants a chance to learn about sustainable solutions that help companies optimize and improve their manufacturing systems.
The students visited exhibitors' booths and attended demonstrations, workshops and industry forums. This trip was an opportunity for the students to learn more about industry automation processes and network with business leaders and prospective employers.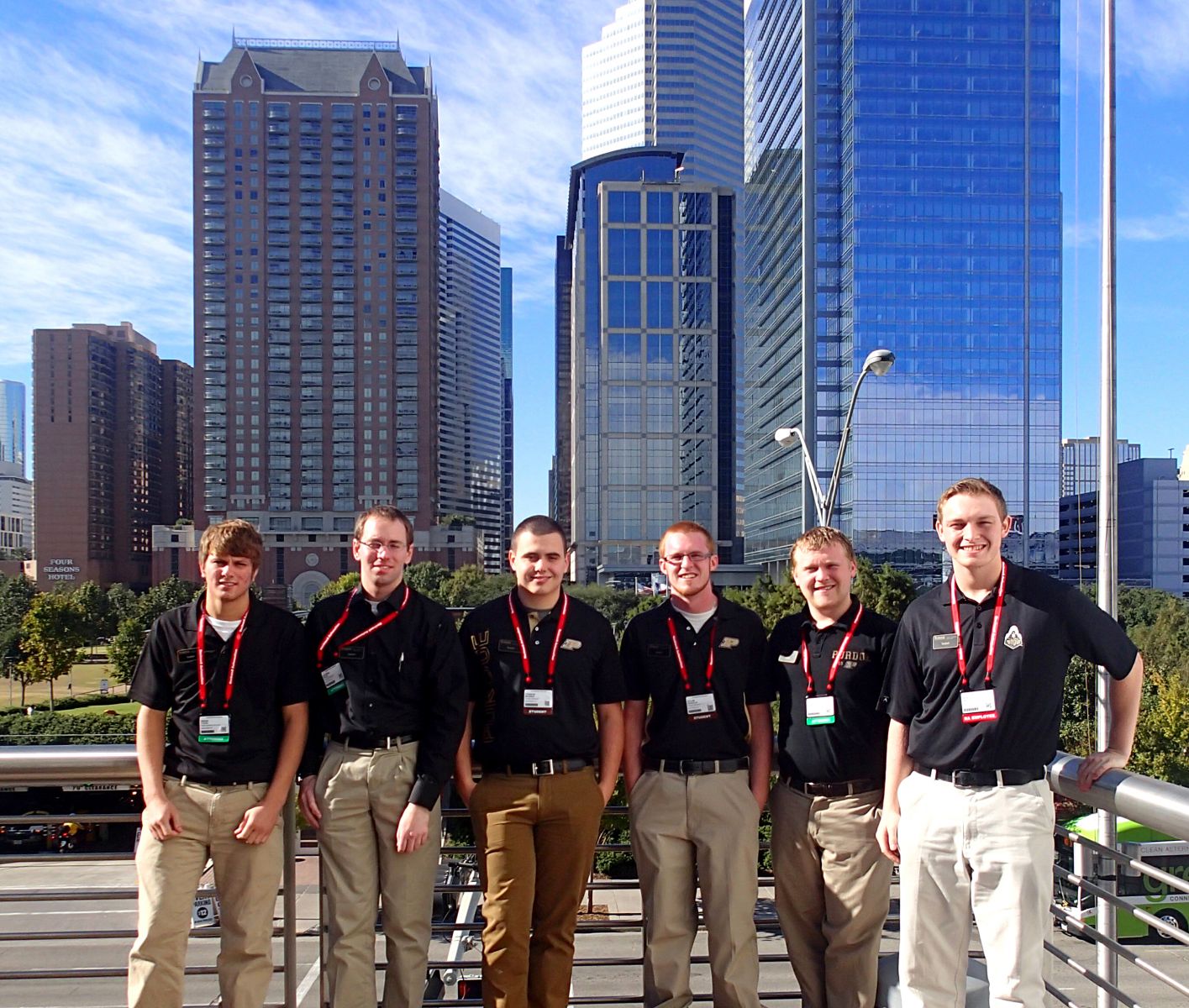 Reese Tyson, a sophomore in electrical engineering technology, interacted with companies in hopes of finding summer work. "I went on the trip to Houston to see what all is out there in industry and get an internship for next summer," he said.
Tyson also learned about current industry processes being used. "I learned a lot about PLCs [programmable logic controller] and how dangerous they can be, especially with things such as arc flash," he said. "There were a lot of things about networking and automation that I had never heard of that were also introduced to me at the fair."
George Bruce, a senior in electrical engineering technology, also attended the fair to learn about prospective job opportunities. "I learned a lot about several systems integration companies that work directly with Rockwell Automation," he said.
Bruce encourages other students to attend at least one fair. "It's a great opportunity to network with a large number of companies involved in all aspects of automation," he said. "It's also a good learning experience for younger students to learn more about systems and see how some of what they learn is applied in the field."
Another highlight of the trip was visiting the Johnson Space Center in Houston. John Piller, continuing lecturer in electrical engineering technology, arranged the tour, which benefitted both the students and NASA.
The students were given a behind the scenes tour and were able to learn more about different NASA projects. Connor McBride, a sophomore in electrical engineering technology, was excited to tour the facility. "Our visit to NASA was the most interesting day of my life," he said. "The part of the visit I liked the most was being able to go inside the Christopher C. Kraft Jr. Mission Control Center." Students were able to take pictures, ask questions and interact with some of the technologies and projects.
Humberto Sanchez, Educational Partnerships Lead, knows the benefits of having students tour the Johnson Space Center. "I see college students benefitting by being excited, motivated, and liking the challenge of continuing to be an engineer or scientist and realizing that they can have an exciting and enjoyable career in STEM fields," he said. "This is something they, too, can do!"
The students who traveled to Houston are all members of The Purdue South Bend Controls Society, which is a student organization that strives for more interaction between Purdue South Bend students and industry. All students in any major are welcome to join the Controls Society. Students then will be eligible to attend the 2014 Rockwell Automation Fair in Anaheim, Calif.