The world was watching as Craig Lewis worked toward a very strict building deadline during his 2014 summer internship with Skanska in New York City.
Skanska was in charge of one part of the renovation of the United Nations General Assembly, and it needed to be done by the opening of the 69th session Sept. 16. And as if the convergence of world leaders to the job site was not stressful enough, Lewis had to deal with a sudden promotion halfway through the job.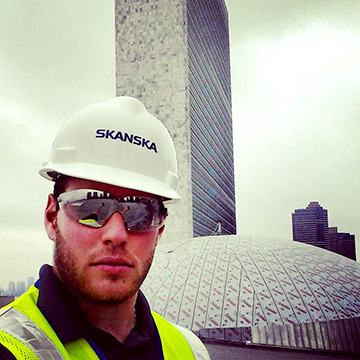 "I came in on the project as a project engineer. Two months in, the project manager left, so I had to fill his shoes and step up to the plate and get it all done on time," Lewis, a senior in the building construction management program (BCM), said.
Lewis was assigned to work with the architecture team, which was concerned with floors and walls, including how they should be built. He was the direct contact between Skanska and the subcontractors and vendors.
"I had to help decide what was the best cost and what was the most beneficial way of renovating the building. For example, all the walls were originally plaster. We had to evaluate where plaster was needed and where we could replace it with drywall," Lewis said. "The plaster walls were placed where the ambassadors and other world leaders gathered."
Once each floor of the project was completed, teams from the CIA and FBI came in to make sure they were secure. It also meant there were no more chances to make improvements, so Lewis had to be sure every detail had been addressed before clearing it.
BCM prepared the way

Skanska put a lot of trust in Lewis and his abilities because he had worked for them the previous summer in their Empire State Building headquarters. During his first internship, he was able to highlight the skill set he had gained as a Purdue student. And he used an even wider range of skills for the U.N. job.
"Everything came into play," he said. "Management skills, skills with materials, estimating, creating RFIs [requests for information], working with architects and engineers. I used everything. My BCM classes gave me the confidence to take on a job like that."
He also used the knowledge he gained in the newer building information modeling courses. These courses gave him additional insight that made him a valuable asset to the Skanska team.
"I don't think I would have had this job if I wasn't in BCM program at Purdue," he said. "I was proving my skills, and the program is very good and updated with everything we do on the job. It definitely gave me a good standing and a good base to build off of."
The Payoff

Aside from the knowledge that he had been a crucial part of Skanska's successful renovation, Lewis came back to his senior year at Purdue with a job offer. Other companies have taken note of his major accomplishment, too. All of the employers he met with at the fall BCM Career Fair were impressed with his U.N. job and the skills he exhibited to bring it to fruition. Several other job offers have come his way because of it.
"It was a very complex job; it was all over the place. At some points, I didn't know if it was ever going to get done," Lewis said.
But as 196 world leaders and diplomats took their turns speaking at the General Assembly podium Sept. 16, all they noticed was the new look and feel of the world's meeting place.