Originally published in the 2016 edition of Innovation magazine
By Amy Raley, Purdue Marketing and Media
Gozdem Kilaz speaks with infectious enthusiasm. One of her alternative-fuel research projects — which is among several within the college — involves a patent-pending technology
that promises broad impact relatively soon.
"It's not only one little field of work," Kilaz, an assistant professor of engineering technology, says from her Purdue office. "It encompasses everybody. It's for our future, our environment and our economy. That's why I'm so passionate about this."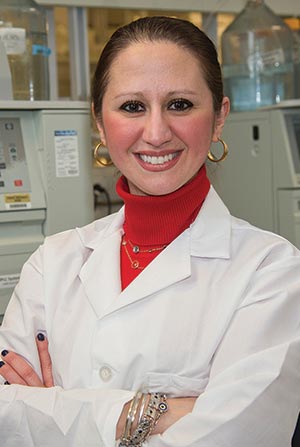 She is talking about REACH, the acronym for a new technology that converts biomass such as corn stover or wood chips into biofuels, but without producing carbon dioxide (CO2), as do fermentation and other conventional processes. REACH stands for renewable acid-hydrolysis condensation hydrotreating. Beyond its zero-CO2 attribute, it uses standard processing techniques found in paper production and petroleum refining. In addition, it produces diesel fuel and jet fuel significantly faster and more cheaply than other biofuel production methods and it doesn't rely on food crops.
"In two or three years it will be economically feasible," Kilaz says. "The goal is to have very competitive pricing for cars and airplanes, as well as fewer emissions, making it highly sustainable."
Another fuel-related project Kilaz is leading is a three-part study involving faculty in the College of Engineering. She is analyzing alternative gas-turbine fuels to determine their burn and fire-spread characteristics so that firefighters can be properly equipped to safely fight fires that involve the new fuels. Kilaz also is involved in an Office of Naval Research-supported research center, NEPTUNE, which is aiming to bring sustainable energy solutions to the U.S. Navy.
Other projects
Among other alternative-fuel research involving Polytechnic faculty is a $6.5 million U.S. Department of Energy study aimed at producing superior strains of sorghum for biofuel production. Michael Leasure, associate professor of aviation technology, will work on the project with faculty in the colleges of Agriculture and Engineering as well as with IBM researchers and others.
Mary Johnson, associate professor of aviation technology, and a team of graduate students are developing the next generation of airport ground support vehicles to reduce costs, emissions and accidents. Their "Informative Terrain and User Guidance" (iTUG) system will employ visual communications, vehicle tracking, collision-avoidance systems and a new generation of engines to reduce fuel use and emissions, and lower costs through accident avoidance.