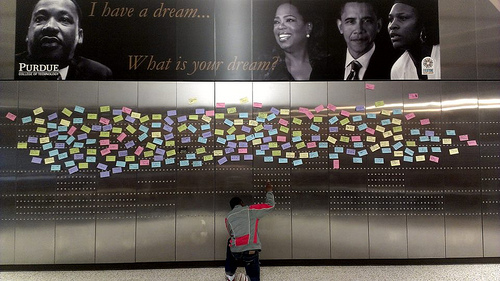 On Tuesday, January 22, members of the Minority Technology Association (MTA) will encourage all who pass through the Knoy Hall lobby to share their dreams for inclusion in an interactive collection of Purdue voices.
(UPDATE: View photos of the MLK Dream Wall | Read all 250 dreams from the wall)
As part of the University's Martin Luther King commemorative events, the College of Technology has created space in its lobby for students, faculty and staff to follow King's lead in proclaiming "I have a dream." The MLK Dream Wall will remain at least through the end of January.
Everyone is invited to walk through to read postings and to share their own. Members of MTA will assist with the process between 9:00 a.m. and 4:30 p.m., Jan. 22.
The complete list of events for Purdue's Martin Luther King celebration can be found on the event's web site.